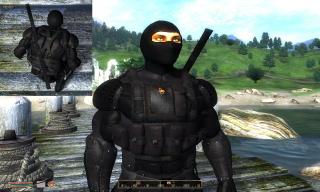 Views: 3,086
1.8b
Alexscorpion
VERSION 2.0. IS COMING SOON

A WORD OF CAUTION: PEOPLE SUFFERING FROM
-Anxiety Disorders ,
-Child Behavior Disorders ,
-Mental Disorders,
-Mental Disorders Diagnosed in Childhood
-Psychotic Disorders
-Restless Legs Syndrome
-Schizophrenia
-Seasonal Affective Disorder
- AND LAZY BUMS
ARE REQUESTED NOT TO DOWNLOAD THIS MOD .
.IF YOU ARE NOT PREPARED TO GO FURTHER THEN A LOCAL STORE IN ORDER TO GET THIS SUIT I SUGGEST YOU LEAVE IT BE .FOR THE SAKE OF YOUR OWN SANITY. THE OTHERS CAN DOWNLOAD AND USE IT AS USUAL .
THANK YOU AND ENJOY.


Name: AlexScorpion's Sneaking Gear
Version: 1.8
Date: 11/22/2007 Last Updated 03/12/2008
Category: Weapons and Armor
Requirements: Oblivion Patch and Oblivion Script Extender (OBSE)
Author: alexscorpion


Description
Inspired by the Metal Gear Solid 4 I have decided to make my own sneaking suit ..this is the result.


Location
Deep ..deep..deep down in Vilverin .See screens for more info.


Details
This plugin adds a completely new armor and weapons sets made from scratch plus several retextures into the game.
Every suit has it's own stats and features
Example: Snow: Frost protection
Leaf Camo: Has the ability to protect you from the wild animals (same as the boots from the Knight's of
the Nine plugin)..etc..
I highly recommend to use the OBSE in order to weld the HIGH FREQUENCY BLADE (ONLy)the way it was intended to in
this mod.The blade might missbehave sometimes...all you have to do to fix it IS DROP IT FROM YOUR INVENTORY AND PICK IT UP AGAIN...That's it.
MASKS Issue: I've had several complaints about the masks and solid eye. The nightvision and life detection effects
couldn't be removed in some cases. It was caused by the fact that all masks were connected to the same script... so
it went wrong every time when you had more than one mask in your inventory.I have fixed that by assigning a
different script to each mask ...it should work fine now (tested iT) .But i still Highly disadvise to turn on the
nightvision and detection effects WITH MORE THAN ONE MASK in your inventory .


Install
1. Extract the files to a temporary location.(DESKTOP)
2. Examine the folder structure and make corrections where necessary.
3. Copy files to (install folder)/Oblivion/Data/
4. Start Oblivion Launcher, click 'Data Files', place a checkmark beside the .esp file.


Uninstall
1. Start Oblivion Launcher, click Data Files, uncheck the .esp file(s).
2. Delete the files/folders associated with the mod.

Oblivion/Data/Meshes/Armor/1nano/
Oblivion/Data/Meshes/Weapons/1nano/
Oblivion/Data/Textures/Armor/1nano/
Oblivion/Data/Textures/Weapons/1nano/
Oblivion/Data/Textures/Menus/Icons/1nano/


History
Snow,Rock and Leaf camo retextures by Akujiki.
1.8 Everything has been combined into 1 single plugin.... some new things added and some things changed
1.8.b. Suits stats changed ... Masks (nightvision Issue) fixed...and some other minor things.


Contact
You can find me on TESNexus as alexscorpion
You can pm me))


Credits
A big Thanks to the niftools team.
Akujiki for the references for the tactical vest and for the snow ,rock and leaf retexture.
I would like to give credit to Vagabonangel, Jerros and LHAMMONDS for the reflective metal technique .
People at the construction set wiki for posting their tutorials there .
And WyntonBezen OKAMI for the Ninja katana script.
Thanks to Bethesda for creating Oblivion.
Thanks to LHammonds for the Readme Generator this file was based on.
Thanks to God for creating us all.


Tools Used
3D Studio Max - http://www.autodesk.com/3dsmax
Blender - http://www.blender.org
NIFSkope - http://www.niftools.org/
Paint.NET - http://www.getpaint.net/
Photoshop - http://www.adobe.com/products/photoshop/
TES Construction Set - http://www.elderscrolls.com/downloads/updates_utilities.htm
Readme Generator - http://lhammonds.game-host.org/obmm/tools_..._generator1.asp


Licensing/Legal
You can do whatever you want with this mod but all I ask in return is that you give me credit if you distribute any

part of this mod. I would also like to know what mods are including my work.