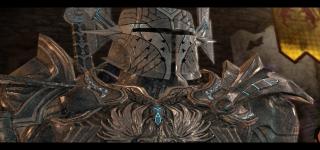 Views: 7,783
1.1
Krumwil
This is my first mod ever... so please criticize if you would like... just don't be a jerk about it.

All credit goes to Ghost11 for his original Grey Warden Runic Armor.

(since this is a retex you still need the original armor which can be found here)

http://modsreloaded.com/runic-armor

Version 1.1

I made the original silver runic armor more silver and very shiny, and decided to add a tarnished silver runic armor because it is very old according to the description so have fun

The reason I did a retex is because I wanted to learn how to do re-textures so i dissected an already amazing armor and adjusted it to my liking, it turned out well so i thought i would share my project with you guys.

I lightened the armor so it looked more likes it's name sake, "Silver Warden". I took the two headed griffin and made him a silvery color and also added a fancy bluish glow to replace the current gold glow to make it look more like imprinted runes and give it a more starmetal look. I tried to make the glow not so overbearing but i had some issues with balancing it.

All Armor, Shields and Weapons from the original mod have been retexed

Instructions:

Just drop the file in My DocumentsBioWareDragon Agepackagescoreoverride


Thanks:

Thankyou Bioware for sweet game
Thankyou Ghost11 for awesome armor and permission to post my little project.