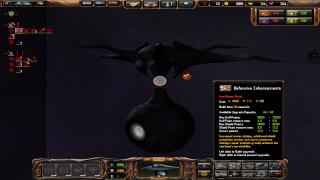 Views: 985
1.1
loder
More Cargo Slots
Version: 1.1
Tested with: Rebellion 1.1
Compatibility: Diplomacy and Rebellion

This mod changes the maximum upgrade capacity on all three starbases from 8 to 48. You should be able to install every single starbase upgrade with this modification installed.

No other changes have been made. The Rebellion source files were used to make this mod. It should be backwards compatible with Diplomacy and Entrenchment expansions.



Installation
Find the Mod folder for your relevant game version and paste the More Cargo Slots folder in there.

C:/Documents and Settings/USERNAME/My Documents/My Games/Ironclad Games/Sins of a Solar Empire Rebellion/Mods-Rebellion v#.##

Goto the Mods page in options when you launch the game and enable the mod.



Conflicts
This will cause conflicts with the Expanded Starbases mod. Do not use the two together.



Contact
You can contact me on the Mods Reloaded website. My username is loder

http://modsreloaded.com