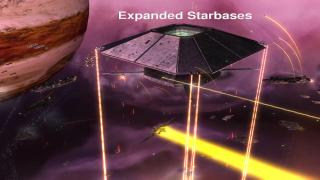 Views: 5,578
1.0
WebSlug
Expanded Starbases


This mod for the Sins of the Solar Empire game increases the maximum level of the Starbase defense upgrade to 8.

Typically the Starbase defense level can only be upgraded to level 3 and this mod is expected to drastically change siege warfare.

In order to support the extra upgrades, the capacity for each starbase has been increased to 24.

The AI also make use of the mod and will expand their starbases accordingly.

No other changes have been made. The mod has been tested with both the Entrenchment, Diplomacy and the Rebellion expansions.



How to install the mod?
To install copy the Expanded Starbase folder from the archive into your mod folder.

The name of the Mod folder will vary depending on the version of the game you are using.

C:/Documents and Settings/me/Local Settings/Application Data/Ironclad Games/Sins of a Solar Empire/Mods-Diplomacy v1.01



Conflicts
This will conflict with the More Cargo Slots mod. Do not use the two mods at the same time.



Permissions
Feel free to use any resources in the mod for your own project. Please contact me before uploading this mod anywhere else.



Future
I may begin to add more upgrades for other components on the starbases however it depends if the mod gets attention.



Credits
loder
Iron Clad Games



Contact
Contact me on the Mods Reloaded site, my username is loder

http://modsreloaded.com