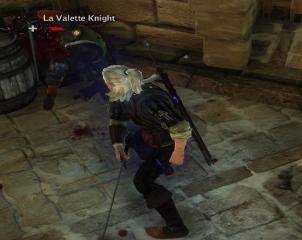 Views: 9,153
1.1
antihero
Note:
===============
This hasn't been extensively tested yet. Seems to work. If the crosshair appears at an inappropriate time, please let me know. It should appear when the game thinks it's in combat mode (as seen when the the minimap gets that red haze behind it.)

You might also notice that the crosshair is often to the side of where you'd aim with Geralt. As far as I can tell, aiming with the crosshair is more accurate. I left the auto-targeting indicators on because Geralt will still automatically attack whoever he's locked onto, even if the crosshair is no longer on the enemy. But hopefully this cuts down on surprise jumping into groups of enemies by accident while aiming for a different one and getting killed.


What it Does:
===============

There are four main changes:

1) Contains my minimap direction pointer mod: http://modsreloaded.com/minimap-direction-pointer

2) Shows a crosshair during combat mode. Outside of combat mode it'd be in your face, since unlike TW1, the camera is directly behind you outside of combat mode.

3) It makes that target lock-on indicator 50% smaller. I got tired of fighting monsters obscured by that icon. It's not so bad for humans, but it's still annoying and the crosshair should also help. I'd have just made them invisible if it weren't for the auto lock-on (a crosshair isn't enough).

4) When you press ctrl+click to open that popup quick menu, you don't have to click on your selection except for meditation since it's in the centre. That is, select signs, pocket items, or your swords by mousing over the icon and then letting the menu close.


How to Install:
===============

Copy the folder "CookedPC" into your "The Witcher 2" base game folder.

It won't overwrite any original file, since the original is in the pack0.dzip

archive. It will overwrite my minimap direction pointer mod, which is why this mod includes it anyway.


How to Uninstall:
===============

Delete the file "The Witcher 2/CookedPC/globals/gui/hud.swf"


Who to Complain at:
===============

Username: antihero_ on the gog.com forums for now.


Changelog:
===============

v1.1 - Fixes a mistake where I didn't align the lock-on icon properly when you pressed ALT to stick with a target.