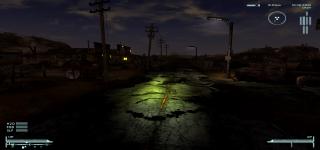 Views: 7,535
1.0
vivanto
Name: Flashlight NVSE
Author: vivanto
Version: 1.00
Date: 2011.01.29.
Category: Miscellaneous
Link: none


Description
Flashlight using NVSE


Details
Started creating a Flashlight mod myself, ignorant on the fact that there is already one on the nexus. To simplify tl/dr descriptions, will only list the notable differences compared to Documn's Flashlight.

- Absolutely requires NVSE to run.
- Script running performance is a middle route between the LOS and Performance versions of Flashlight NV. Obviously, rendering performance is - depending on light selection - the same.
- Can change between near and far light intensity.
- Three color selections (warm, neutral, cold).
- Assignable hotkey (no hotkey assigned by default).
- Uses functions off of my FNVToolkit (bundled).
- Optional battery version with timed/recharging Half Life style battery icon.
- Battery HUD icon can be repositioned from the configuration menu.
- Only a single inventory item.

To access the config menu, equip the Flashlight item found in your Inventory/Apparel from your pip-boy.

To activate the flashlight, do one of the following:
1). Assign the flashlight item in your inventory to a regular pip-boy hotkey, then equip it using the hotkey during gameplay.
2). Using the config menu, assign any preferred hotkey to the flashlight, and use it to enable/disable.

If you use a custom hotkey (method 2).), you can toggle flashlight intensity if you press and hold your assigned hotkey.

With the battery version, high intensity drains battery faster.


Requirements
Fallout New Vegas v1.2.0.314
NVSE]New Vegas Script Extender (NVSE) v1.0.6[/url]
FNVToolkit 1.02


Install
1. Extract the files from the archive.
2. Copy files to (install folder)Fallout New VegasData
3. Use your preferred Mod Manager, enable esm/esp files.
4. If using the Battery version, use Hud Merger included in the zip file to enable battery icons.


Un-Install
1. If using Battery version, use Hud Merger to disable the battery icon.
2. Use your preferred Mod Manager, disable the esp file.
3. Delete the files.


Bugs/Issues
No known issues so far, please let me know if you find any.


History
1.00 2011.01.29. - Initial Release


Recommended Mods
Flashlight NV
Head Mounted Flashlight


Credits
NVSE Team.
ElminsterAU for FNVEdit.
Arwen for the color of the orange flashlight.
Pelinor for Directional Piplight.
Documn for Flashlight NV and scripting help.
InsanitySorrow for ReadMe Generator this readme is based on.


Tools Used
License/Legal
This file is provided as is and the author holds no responsiblity for anything that may come to happen from using this file.