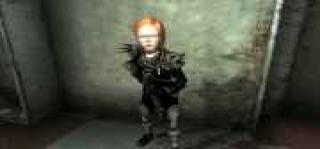 Views: 44,041
1.5
Kiwi and the CotW
ENHANCED CHILDREN PROJECT V1.5
Race Enhancement for the Children of the Wasteland Project (CotW)

HIGHLY RECOMMENDED MODS TO USE WITH EC:
1) Lil Gunslingers (by Zuz) - Official successor of ECM (Enhanced Child Mercenaries), it adds recruitable Special-OP's trained children and much more fun:
http://www.fallout3nexus.com/downloads/file.php?id=8533

2) Childhood Beginning (by SmileyTops) - Eliminates the need to use the Showracemenu command, and much more ;D:
http://fallout3nexus.com/downloads/file.php?id=6496

3) Player Child Voice Fix (by DraykCannon) - Changes the player voice to sound like a child:
http://fallout3nexus.com/downloads/file.php?id=6031

4) CUTE Girl Body Replacement (by Kiwi and CotW Team) - Body replacer for the girls, shop with all the child clothes, all headgear useable for the children and much more ;D (boy replacer coming soon!!)

5) CREBSOR (by Laffie) - Custom Race Ending fix for Broken Steel DLC, normally you will have issues playing that DLC as a kid cause you cant use the code console in the end of the quest, this mod solves that

5.1) Movable Milk Crates (by Neunen) - Small mod that adds a room full of milk crates that can be placed in the players inventory for transport, USEFUL "MUST" for kid races to reach high places (by standing up on them, cute huh?), specially to reach the code console in the Broken Steel DLC, dont go around the wastes without one of these ;D (To be used with CREBSOR):
http://fallout3nexus.com/downloads/file.php?id=4611


Announces:

25/JUN/2009 Uploaded Version 1.5 ESM only, it should fix racial problems, specially with the african american children not showing the proper head color. Fixes brought to you by our GREAT contributor DraykCannon. Please for those new to our mod, install V1.1 then V1.2 and then replace the esm with the one in the 1.5 file. New content comming soon for Version 2.0!.

25/JUN/2009 UPLOADED AN ESP TO HELP PEOPLE THAT CANT START A CONVERSATION WITH THE ECM KIDS (OR WITH ANY NEW NPC). THIS MOD IS NOT MINE, UNFORTUNATELY THE FILE DIDNT HAVE A README AND I CANT TELL WHO THE AUTHOR IS, IN ANY CASE CREDITS GO TO HIM/HER FOR THIS FIX.

10/MAY/2009 FOR BROKEN STEEL USERS, INSTALL THIS PATCH TO BE ABLE TO USE OUR (AND ANY) CUSTOM RACES WITH THE DLC:
http://www.fallout3nexus.com/downloads/file.php?id=6240

30/APRIL/2009 GET THE CHILD VOICE REPLACER HERE BY DRAYK_CANNON!! HAPPY CHILDREN'S DAY :D!!:
http://www.fallout3nexus.com/downloads/file.php?id=6031

IF YOU'RE INTERESTED TO JOIN THIS PROJECT SEND ME A PRIVATE MESSAGE!

IMPORTANT!!:
DUE TO SOME CONFUSION CAUSED TO A USER I MUST WARN YOU TO IGNORE THE "ENHANCEDCHILDREN1.1 COMPLETE PACK" README (ITS OUTDATED) AND READ THE ONE BELOW!!

NEW 16/04/2009:
New bug found and solution given to it, please check the BUGS section for details.


Updates
-------
1.5 Racial bugs fixed, now the african americans should have the proper head color. Thanks again to our friend DraykCannon for this development, i highly recommend you give Kudos to him and check out his other GREAT mods:
http://fallout3nexus.com/modules/members/index.php?id=951544

1.2 Plus Fixed Saram Hair Compatibility Patch - I upload a pack to work with the current version of Saram Hair.

1.2 Plus Fixed Hair Pack Compatibility Pack - I upload a pack to work with the current version of Yoshikinakota's Hair Pack.

1.2 Plus Fixed - Fixed some bugs found in the Esm and added 9 eye colors to the child races. Install the mod and overwrite the files with the fix, more info on the fix readme.

+ Added an improved texture pack for the male children courtesy of Arlekin!

1.2 Plus - Added Enhanced Child Mercenaries (ECM) to the project. See New Features for a short description.

1.2 - Dismemberment for the Child meshes thanks to Shinteo!. If you have version 1.1 just download the Dismemberment Pack and let it replace all files. If not, get the complete v 1.1 and then replace the files with the dismemberment pack.

1.1 - Added automatic scale adjustment for haircut menu and new facial reconstruction feature for the robot butlers (with proper scaling, see the New Feature section below for further details).

1.0 - Initial Release.


Description
------------

The main objective of this mod is to offer more options of hair to the child races based on yoshikinakota hair pack for those who want to play as a kid or for those who may want to modify the kids in the game.

Vanilla has a very limited variety of hairs for the kids races so i thought this would be nice for everyone that likes playing as a kid.

To achieve this i took Yoshikinakota's hair pack (complete with kozaburo's hair) and adapt it to the child's head mesh, then add the hairs to the killable children mod (By Neclipse), since this mod
is the one i find better for playing as a kid (it lets you edit your child face on the facegen, removes the "Children Can't Use This" annoying message, etc). For those who still want the killable option i add to the archive the original txt that removes the essential flag on all kids. I didnt want the kids to be violent so this mod is based on the "no additional options" esp of the killable children mod (It keeps the child races with vanilla stats and behavior).

IMPORTANT!! READ THE WHOLE README CAREFULLY FOR INSTRUCTIONS ON HOW TO USE THIS PROPERLY!!


Initial Recommendations
-----------------------

Now the facial menu's have been fixed its recommended you get the official game patch so the face glitch on the race menus is gone. If you still have glitches after that, just save, restart your game, and the face should appear there properly. If that doesnt help, restart your computer. This old glitch is not caused by this mod, it was a game bug that seems to be gone after the last patch. Still, total functionality is not promised.


WARNING
--------

This mod changes all the Vanilla Child Races so if you have other mods that change those races there may be conflicts. Now it also changes the default robot butler's dialogs so mods that change that may conflict.


New Features!
--------------

1.2 Plus Fixed Hair Pack Compatibility Pack - I upload a pack to work with the current version of Yoshikinakota's Hair Pack. His mod was editing the child races and making a big mess with them, the records were pointing them to adult hair meshes and thus, making them to clip through the child head (overriding our child adapted hairs). This patch fixes that by removing the child records from his esm's and esp's. This is optimum since his mod wasnt doing anything good for the kids anyway, so fear not use this instead.

1.2 Plus Fixed: Fixed some race bugs and added 9 eye colors for the kids. Install the mod first and overwrite with the fix files.

1.2 Plus: Enhanced Child Mercenaries (ECM): Adds buyable mercenary children from an enslaver at Rivet City's entrance. More info in the ECM Readme of the plugin.

1.2 Child Dismemberment: Self explainatory, their bodies will now dismember properly (both male and female).

1.1 Enhanced Child Hair Cut Menu: New feature never seen before on any race mod, now the haircut menu will detect if you use a kid race and adapt the scale automatically to show the face in the hair menu screen.

1.1 Enhanced Child Facial Reconstruction Menu: This adds a new feature to the robot butlers, now you can ask them to change your face!. This feature uses the facial reconstruction menu (similar to the race menu) created by Pinkerton on the Replicated Man Quest. You need to complete this quest for the feature to be available.

* Dont worry if you decide to use other saves with adult characters or if you decide to go back to using an adult character, the hair menu, and the facial reconstruction menu's are coded to make the changes ONLY FOR THE VANILLA CHILD RACES. This means it will properly display adults as it did before. This feature should not work on custom races, in which case you will get the default "adult" menu effect.


How do I successfully play as a child?
---------------------------------------

1.Play normally (IMPORTANT: USE ONLY AN ADULT RACE AT THIS POINT) up until you get to the last part of the vault quest. (This could also be done anytime in game as long as you are passed the part where Amata wakes you up and you're AN ADULT).
2. open console (~) and type showracemenu.
3. Choose your child race.
4. Choose your facial features and such. *Do Not move the face on the screen or it will go black.*
But as long as you don't move the face around you can adjust your facial features as you like.
5. Exit the race menu. And open console again. Type player.setscale 1
6. Exit console and enjoy your game. You'll now be able to play as a child and do all the normal things an adult character could. You won't get a 'Children Can't Use This' message when trying to use lever's and such.

> To change your face again you have to complete The Replicated Man, and find Pinkerton for the facial reconstruction unit in your robot butlers to be activated.

>If you want to change it before this quest use this procedure:
- Open the console with the tilde.
- Use the command "player.setscale 1.25" without the quotes to change your scale to appear properly.
- Use the command "showracemenu" without quotes and close the console, your character face should look properly now (specially after the latest official patch).
- Change your face to whatever you want, when you're done close the menu, open the console and use the command "player.setscale 1" without quotes to set your character back to normal size.
- Done!

Installation
-------------

1. copy the esm and the two folders (meshes&textures) to your Data folder.
2. Copy kids.txt to your Fallout.exe folder.
***Note that is the main directory not your /data directory. This is important***
3. Go to Data Files in your FO3 launcher menu and check EnhancedChildren.esp (or use FOMM for this).
4. You're good to go!.


Optional
---------

- You can still be able to have killable kids by just enabling the kids.txt file included with the
following command in the console:

"bat kids"

***Without the quotes ""

- Enhanced Child Mercenaries (ECM): Optional plug in that adds buyable child mercenary companions.

- Enhanced Children Dismemberment Pack: Optional files, install this if you want to see dismemberment on the children. Includes the bodies and all the child outfits with working dismemberment.

Compatibility Problems
-----------------------

- With mods that affect the child races.
- With any mod that changes the vanilla child bodies or clothe meshes.
- With mods that alter the robot butler's dialogs.
- That's it! this is compatible with the original hair pack since this doesnt mod any of the adult races.


BUGS!! Updated 16/04/2009
-------

- There is a bug when you end the Tranquility Lane quest, that makes your character grow into an adult again. To fix this, or any quest that changes you into an adult use this command in the console: agerace -1

Repeat that command until you see yourself as a kid again, and avoid using the Showracemenu at that point cause it will reset your stats, will make your perks useless, and will cause a lot of trouble.

- Yoshikinakota's hair pack and Saram hair packs now conflict with EC, we have compatibility patches to fix this. Make sure you replace their Esp's and Esm's with ours.

- The new options for the robot dialogs dont have a sound file, if you want to help with a solution you are more than welcome.

- Pinkerton's facial reconstruction has not been enhanced yet to show your face properly, when you reach that point of the quest, just dont make changes to your face there, do it with your robot butlers at home since after that point the option should be available.


Credits and Thanks to
----------------------
People at CoC - For the inspiration and support!
Shinteo - For creating the dismemberment for the kids.
Arlekin - For improving the male child textures.
grantprobstmusic - For creating Wasteland Mercs 2 and granting me to use it.
Neclipse - For the Killable Children mod! (and for parts of his "easy to get" Read Me i used)
Yoshikinakota - For his Hair Pack mod!
JosefGrey+Kozaburo - For the hair and the conversion to FO3!
Beth - For creating FO3 and the GECK!!


Permissions!!
--------------
This mod is intended to be used as a resource for child races and child improvements, its released in esm (master file) format for easy usage by esp's from your mods. Use without fear, just link to us instead of adding our files to your mod, and credit us for the resources if you use them. If you need more child races/resources or want to contribute with something just let me know via PM.

Update: I've noticed some modders using resources of this mod, like hairs, and adding them to their mods without our permission. Its ok to do that, as long as we are informed or at least credited, and i dont think this is the case.

Important updates are comming, and this time at least for such resources it will be STRICTLY FORBIDDEN to modify them without our team's permission. Thanks.

Enjoy!