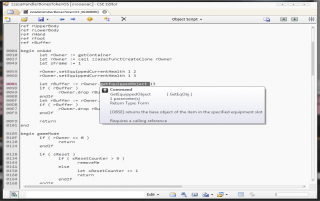 Views: 3,300
4.0b
shadeMe
Construction Set Extender
Showing the CS the love it deserves
version 4.0

Requires Oblivion Script Extender 20 Beta+


Description
A wise old person once started a thread in the BGS forums with these words:

[indent]We've all done it at some point - Wished that Bethesda would fix the damned thing *show of rage* ... and add some of those godsend features that would make life so much easier.

Unfortunately, nothing ever came of it. Beth moved on to creating more trouble with the GECK, leaving us in the dust with an aging, one-legged buzzard. But hope springs eternal. I've created this thread just in case a lone (and handsome) vagabond chances upon it and takes to themself the task of fattening the damned bird.[/indent]

*tumbleweeds fly* *the wind makes an obscene sign in the sand* *the snowâ ¦oh* *the smoke clears, albeit slowly*

Well, Iâ ve been told that Iâ m handsome


Fine Print
The Construction Set Extender is a lone and handsome vagabond OBSE plugin that enhances the TES4 CS by fixing various bugs and adding new tools. One may say it makes the CS what it was meant to be, but that would be a lie given how uncreative Bethâ s talent is - Take a look at Oblivion.


Compatibility
This mod is, and should be, compatible with every other mod there is.


Credits
Special thanks to :
* Ian Patterson, Stephen Abel and Paul Connelly (The OBSE Team) â For keeping up the Oblivion Modding spirit and providing the modding community with TES4 Oblivion's Elixir of Immortality
* LHammonds â For his Readme generator
* Scruggsywuggsy the ferret - For putting up with me over the course of CSE's development, providing advice, adding stuff to OBSE as I needed and letting me do all sorts of immoral stuff to the code. Kudos to you, mate!
* IanPat â Same as above.
* Cipscis - For inspiring the very first version of the plugin that came to become CSE.
* haama, Waruddar, Corepc, kyoma, DragoonWraith, PacificMorrowind, tejon, JRoush and Vacuity - For taking interest in and testing the plugin and working with me through the many arduous months of development. Hats off to you guys!
* Sen-Chan, CorePC, lilith, daemondarque and the rest of the ... group - For being such a friendly bunch and keeping me company.
* Lilith â For proof-reading the manual.
* All the modders who contributed to the 'CS Wishlist' and 'Script Editor Wishlist' thread - CSE's chock-full of your suggestions and requests.

The Rest of the Modding Community â For the inspiration I needed to start modding and all the wonderful mods which I use.
Bethesda â For providing a great game Construction Set with enough flaws to keep us me busy.


Change Log

4.0 - Initial (Public) Release