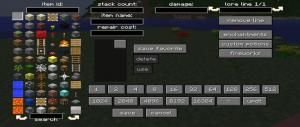 Views: 1,336
1.1.2
mister_person
What this mod does
This mod allows you to give yourself almost every possible item in the game, including:

Fireworks with any amount of explosions and custom colors, potions with potion effects up to level 127,

Any enchantment on any item up to level 32767,
And custom item names with colors and formatting.

This mod can give you more items than toomanyitems can.

When you uninstall the mod, all the cool items will still be there! AntVenom would love it.


Multiplayer
It even works in multiplayer if you're in creative, even if you don't have permission for any commands!(It works in single player no matter what, even if you're in survival.)

NOTE: If you downloaded 1.12 please update to 1.12a to prevent crashes.

IMPORTANT: This mod requires modloader or forge.


Changelog

- You can now have unlimited pages of favorites! Click the right arrow button to get a new page.
- You can now drag and drop things in "scroll boxes" to rearrange them, like favorite items, enchantments, and potion effects.
- Fixed crash with short enchantment names.