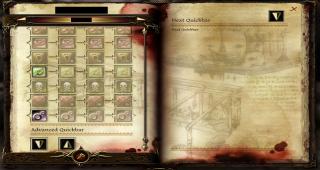 Views: 8,733
1.2
Anakin
This add-in gives you access to 4 quickbars. You can navigate through them with a Next and a Previous button.

Adds two skills in your skill book. You can drag and drop them into your quickbar to gain access the 3 additional quickbars.



Localization
Available localization are English, French, German, Spanish, Italian, Russian, Czech, Polish and Hungarian.
If you see an error for your language, please report it to me.



How to Install
Use the daupdater.exe located at "Program FilesDragon Agebin_ship" folder. Then select the downloaded dazip file of Advanced Quickbar. Press install. You can use DAModder to install this add-in.

You don't need to start a new game to make this add-in working.



How to Uninstall
There is no easy way to uninstall a mod. You can untick it in the downloadable content menu.
You can use DAModder to uninstall this add-in.



Compatability
This add-in doesn't override any event.
It is compatible with all mods.

This add-in create abilities 51000 and 51001. Guitype is new as well and is 610.
It use string ID from 8100000 to 8100002.
It also create a new event with the ID 510.


This add-in is part of the Advanced Series
Advanced Tactics
Advanced Party