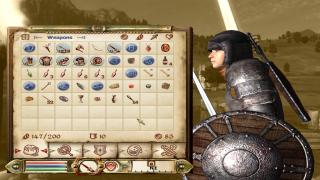 Views: 4,640
1.6
WZ
--------------------
wz_Inventory 1.6
--------------------

Official forum thread:
http://www.elderscrolls.com/forums/index.php?showforum=25

----------
This little UI mod brings back a grid inventory to the
world of the Elder Scrolls - fully customizable, fully
configurable, and in two distinct themes:

* The classical "journal" theme integrates with Oblivion's
vanilla UI, giving you the default inventory looks, with
a nice grid-type item listing.

* The entirely new "container" theme offers more options
like dynamic resizing, transparent background and a better
use of the available screen dimensions.

---
While bad for getting a quick overview over your items,
the informative list view may be a real help sometimes
when it comes to finding a specific item in your inventory.
So the grid comes not as a replacement for the list view
but rather as an addition to it. You can have both grid and
list views displayed for each inventory tab, and even toggle
between the two in-game. The configuration file allows for
a permanent setting of the default view for each tab.

---
Furthermore, background tiles and separators may be easily
themed. There are three separator styles and two tilesets
included in the package, and changing between them is done
via configuration too! The numerous other settings for the
popups, transparencies, text alignments and HUD integration
make it easy to adapt the inventory to personal likings.

----------
#> Configuration

The main configuration is done by opening the supplied
"wz_inv.txkeys" file with TweakOblivion, a great tool
which provides a GUI for xml configuration. The aforementioned
file is located in the "Data\menus\config\wz_inv" subfolder of
your Oblivion installation path.

----------
#> Installation
Easy enough, just extract the contents of the archive to your
Oblivion\Data folder.
To disable the mod, just rename or delete main file of the mod,
"Data\menus\main\inventory_menu.xml".