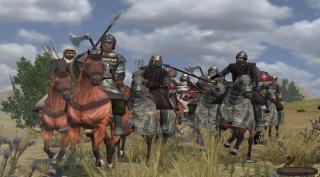 Views: 3,377
1.1
loder
Warband Reloaded v1.1
Tested on: Mount and Blade Warband 1.153

This mod was based on Diplomacy and the Mod Collection. It's my first modification for Mount and Blade so go easy on me.

The purpose of the mod is to make Warband a little more fun and slightly more challenging. The initial aim was to add more companions and lords however I felt compelled to make several changes along the way. If the mod gets enough support and feedback I will continue to update it.



Features
Adds 50 new companions.

Adds four new male lords.

Adds two new female lords.

New battle sounds.

Added a quick start option.

More vibrant environmental colours.

Sanjar Khan renamed to Ghengis Khan.

Maximum bandit parties on map increased to 4096.

Maximum AI Lord party size increased by 150%.

Added a Modding options link in the camp menu.

Added Dislike me to the list of cheat options.

Added Marry me to the list of cheat options.
Included Mods
Diplomacy 4.2 by Waihti, zParsifal
Mod Collection
SimpleLoot by Xenoargh

Men at arms pack, plate armor by Narf of Picklestink

Bunch of armours by Fredelios

Horses by Wanderer

Nord hersir and Samurai armour by SacredStoneHead

Helmets and weapons by Iggorbb

Helmets and surcoat by Rathos
Future Updates
Foraging
Assassins
More Lords.
More towns and villages.
Diplomacy Patrol modifications.
More dialogue options.
Notes
The source code from the 4.2 version of diplomacy was used as a foundation. At the time of writing 4.3 is the most current version however I can't find the source code for it. I have tested the mod with the latest 1.153 patch for Mount and Blade Warband.



Contact
You can contact me on the Mods Reloaded website, my username on there is loder.

http://modsreloaded.com



Permissions and Usage
Feel free to use any parts of the mod in your own release(s), just credit me and any others for their work. This mod is not to be uploaded on nexusmods or moddb.