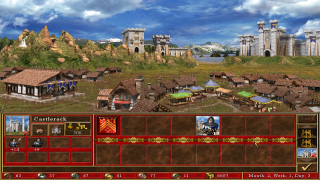 Views: 4,489
3.58f
WOG Team
Here it is, the ultimate mod for Heroes of Might and Magic 3.

This mod is absolutely packed with new features, units, battle scenes, music and loads more.

In all my time modding this is perhaps one of the best creations I have ever witnessed.

It turns a fantastic game into something else all together.

If you liked Heroes 3 then I highly recommend you download this mod. I dont recommend installing the music however, unless your Russian.



Instructions
Unpack the contents of the compressed archive to a temporary folder and run the install program.
Note:
this mod requires all of the expansions for Heroes 3. Its worth buying them just to play this mod!

http://www.maps4heroes.com/heroes3/in_the_wake_of_gods.php

Heroes 3: In the Wake of Gods ver. 3.58f

VERY IMPORTANT!!!

Heroes 3 WoG is an expansion pack to the Heroes 3 Shadow of Death game. You must have Heroes 3 Shadow of Death or Heroes 3 Complete or Heroes Platinum Edition installed prior to installing the expansion.

This is a full WoG package (3.58f). When you download it, you DO NOT need to install all previous patches (3.51 ... 3.58f), this full WoG package already includes all of them.

You can download "allinone_358f.zip" file (install file for "In the Wake of Gods") here:
http://www.maps4heroes.com/heroes3/files/allinone_358f.zip



Installation
1. Download WoG file and run self extracting RAR archives.

2. There is a bug in Windows sort function that may make WoG install incorrectly if your system language is not an English. For sure it happens for Swedish. So we recommend you:
- check your system language and if it is English or Russian, all is fine;
- if not, change your local settings to English (Russian) language and country for Canada, Great Britain, Russia or US.

3. Make sure that you removed all other MODs and other files from all Heroes folders (especially from Data folder). We recommend you:
- make a full copy of your SoD or HC;
- uninstall SoD or HC;
- delete all files in ex-Heroes folder (if any) manually;
- install SoD or HC again to the same folder.

IMPORTANT!!!
The full path to Heroes (SoD or HC) must contain only ENGLISH letters
(example: must be "C:GamesHeroes3", must NOT be "C:???????Heroes3").

4. Now you are ready to run install.exe file in WoG download package. Follow further instructions. Be patient - installation may take time (up to a half of an hour)!

5. After WoG installation if you changed your system language/country settings, it is time to change them back.

6. You can run WoG (H3WOG.EXE) or SoD/HC (HEROES3.EXE) that you had previously. Both will work.

7. You get WoG map editor (H3WMAPED.EXE) in addition to your SoD/HC map editor.
- WoG map editor can load RoE, AB, SoD or WoG maps and save them as RoE, AB or WoG;
- WoG map editor cannot generate random maps; use SoD map editor for this purpose then load map to WoG map editor;

8. You get WoG campaign editor (H3WCMPED.EXE) in addition to your SoD/HC campaign editor.

9. You get a new Windows menu folder: "New Life of Heroes". Take a look there for other tools and documentation.

10. Good luck!