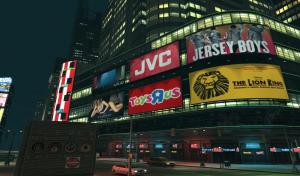 Views: 544
Complete
Emble
This is a collection of mods which have been compiled into one big pack. The aim of the mod is to bring Liberty City to New York. As I turned, you will appreciate soon. VIVA New York consists of three main parts:


About this mod
The Viva New York patch alters Liberty City's subways, taxis and even Times Square to look like the real deal and it is awesome. This patch has accurate billboards and scrolling neon ads, and all the stuff that you'd expect are there: glowing signs for Coke, Pepsi, the NASDAQ building and The Lion King/Phantom of the Opera adverts.


Times Square Mod
Exact copy of it instead of the Star Junction. That are advertising ... advertising. But strictly, and I tried to follow the exact resemblance to the real Times Square. Replaced all advertising, videobanners, screens, etc.


Subway, Taxi, Police
Here replaced all the textures of subway signs, converted under the standard of New York. Rather did a great job. But realism is felt. Fans should enjoy this station mod. Submit corrections trains, inscriptions and so on. New taxi and police cars, new train textures, etc.


Minor changes
Such trifles as textures taxi, car license plates, a new large taxi advertising signs, ticketmachines, lights, newspapers, magazines, brands, drinks and stuff, etc.


Video
http://www.youtube.com/watch?feature=player_embedded&v=WmTpHN3tdh8