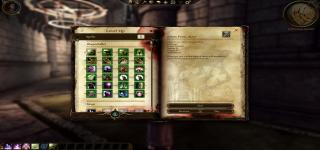 Views: 7,308
v3.0
Valafar
This mod is intended for mages that have Master Shapeshifting. If using all packages you can have up to 15 different forms. The packages are as follow;

DragonShifting
Dragonling
Drake
Young Winged Dragon
Dragon Mastery(permanent stat bonuses)

DemonShifting
Rage Demon
Desire Demon(Succubus)
Nature Demon (Lady of the Forest)
Demon Mastery(Permanent stat bonuses)

BeastShifting
Wolf
Blight Wolf
Werewolf
Beast Mastery(permanent stat bonuses)

Undead Shifting
Shade
AshWraith
Revenant
Undead Mastery(permanent Stat Bonuses)

Tank Shifting
Stone Golem
Steel Golem
Ogre
Tank Mastery(permanent stat bonuses)

Install Instructions:
V3: Run the daupdater.exe utility in the bin_ship directory select the location you saved the downloaded file at and choose install.

V2.0b: Unzip folder and place the 2 GDA files in the DocumentsBioWareDragon Agepackagescoreoverride folder. Start game and enjoy.

Updated to version 3.0
Now has tooltips and descriptions for abilities
Separated mod into 5 different packages
Added more shapes and specialized branches
Now in dazip format to allow toggling on/off at downloaded content screen.
You must have Master Shapeshifting to use these new shapes.

Known Issues
Only the dragon package is compatible with NPCs. Other packages cause severe model corruption with NPC models.