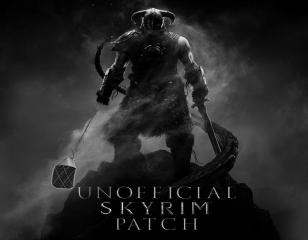 Views: 9,000
1.2.2b
Quarn and Kivan
A comprehensive bugfixing mod for The Elder Scrolls V: Skyrim, the goal of the Unofficial Skyrim Patch (aka USKP) is to eventually fix every bug with Skyrim not officially resolved by the developers to the limits of the Creation Kit and community-developed tools, in one easy-to-install package.

The only requirement after installation is to move Unofficial Skyrim Patch.esp to the top of the load order in Data Files in the Skyrim launcher (above any other ESP files, but after any ESM files if there are any) so that the USKP loads first. This will allow other mods to override its changes so that it doesn't cause problems with them.


Features:
- Hundreds of gameplay, quest, NPC, object, item, text and placement bugs fixed already, and plenty more on the way
- Created by the authors of the Unofficial Oblivion Patch; already three months in development
- No unsafe changes (such as deletions of stock objects)
- Designed to be compatible with as many other mods as possible
- Beta-tested with over fifteen thousand downloads

For more information (ie the recent changelog, mods that the USKP replaces) see the USKP's thread on the official forums here.
Due to the forums' 200 post limit, this thread may be locked, but the last post in each thread will link to the new one, and the link above will be updated from time to time.
This is the best option to report problems or bugs (which should be checked on the USKP's tracker linked there and posted if they currently aren't.)

The complete changelog is posted here.

If you're experiencing a bug with Skyrim, please report the bug to us in as much detail as possible on the USKP bugtracker. Please use search to ensure that you aren't submitting something that is already there.