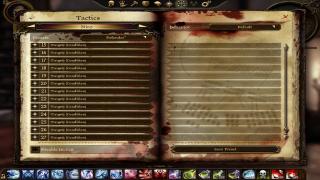 Views: 8,783
1.1
elkston
This small mod gives your characters access to all 25 tactic slots regardless of their level or point investment in the "Combat Tactics" skill. It works with the base game Dragon Age:Origins and is also fully compatible with the expansion, Dragon Age:Awakening. This mod builds on work from an earlier mod (whose author I cannot recall - but credit goes to him) for the base Dragon Age:Origins.

Now compatible with the Dragon Age Awakening Expansion!
When the mod is installed, the changes to your tactics slots will occur on your next level up for existing characters and immediately for newly created characters.
Those players who already have the older tactics unlock mod installed should update to this new version to guarantee that you keep all your slots through Awakening character levels 26-35.

To install, simply copy the two files contained in the ZIP archive to this directory depending on your Operating System:

Windows XP:
My Documents\dragon age\packages\core\override

Vista/Windows 7:
Users\\Documents\Bioware\Dragon Age\packages\core\override

Overwrite any files if prompted.

NOTE: A side effect of using this mod with regular Dragon Age:Origins is that you will be given an extra specialization point if you reach level 22. To play fair you can leave it unused, but it will always linger around and will even carry over to Awakenings if you import that character.