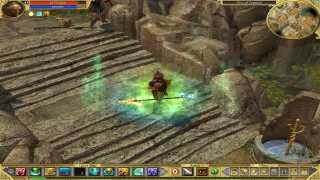 Views: 6,199
1.52
yerk yerk
The amazing mod for Titan Quest fully reshapes the masteries, adds new items, locations, monsters and much more!



Bundled in this mod

Fanpatch 1.17 (with Allskins vendors)
JMD's Immortal UI Theme
EJFudd's Randomization Fix (latest version)
The Lord of Space's Slow-Casting bugfix (latest version)
Galefury's Easier Mythics



Features
All 9 masteries expanded and rebalanced, each going up to level 40 with 24 skills
Max character level raised to 85
3 secret areas added to the game
New and Revised monsters with new skills
30 new rare affixes
All set bonuses improved
New sets added
New weapon type: vitality staff
New items, including monster infrequents, randomized unique jewelry, and easter eggs
New Mythic class of items above Legendary
Large number of charms and relics rebalanced and improved
Large number of items rebalanced and improved



Gameplay
Increased monster levels and spawning
Increased champion and hero monster chance to spawn
Potion cooldown increased to 16 seconds
Potion stack limit increased to 100
Monster infrequents now have a distinct color on the ground
Combat math reworked:

Fewer, but more powerful critical hits
Chance to dodge from defense ability greatly lowered (damage reduction unchanged)



Economy Tweaks
Monsters and non-boss chests only drop one bag of gold (total gold unchanged)
Enchanter costs reduced to 10% of the item value
Mystic costs reduced to 3,000 gold max after 60 points

Experience recovered from gravestones reduced to 50%
Axes all have a base 15% pierce ratio
Recipes accept higher-quality versions of their charms, relics, and scrolls
Boss monsters have an aura which removes dodge and deflect immunities



Requirements
Titan Quest - Immortal Throne (this mod does not work without the Immortal Throne expansion)

For the manual package, you must know where the installation directory is (or know how to find it). If you do not, please use the installer. You should only use the manual package when:

The installer can't find your installation of Immortal Throne
You have other mods/changes to the core game files
You're a control freak who likes to do it themself

-------------------------


Installation Instructions


1. Download installer
2. Run installer
3. ???
4. Profit



Installation Instructions for the Manual Install
Note: Because this mod modifies a number of the original game files, uninstalling means restoring all those files (typically through a reinstall). If reinstalling Immortal Throne is problematic for your particular version of the game, you can opt to back up the Immortal Throne directory (or just the changed files individually). For those who need to frequently switch between Underlord and the original game, check out Asylum101's batch files listed in the "Mods and Utilities" sticky.

Unpack the contents of this archive into your installation directory, overwriting the existing files.

The location of your installation can vary, depending on where you got the game from. The default installation directory for the retail version for Windows XP is C:/Program Files/THQ/Titan Quest Immortal Throne/

If you got your copy of the game from digital distribution, and you can't find where the game was installed, right-click the shortcut that launches the game and choose "properties" to find your installation directory. If that doesn't work, contact support for the distributor of your version to find out what the default installation path is.