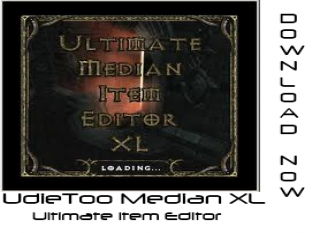 Views: 85,605
1.13c
whist, whaag, SVR, The Median Gods clan, and CaptinCool.
UdieMXL Final by whist
Thanks to Whaag, Shadowdiablo.com and SVR.

Go on shadowdiablo.com for more information and help.


How to install
Extract the folder "UdieMXL" anywhere on your computer.
Put the patch_XL.xxx in your Diablo II directory (usually in C:/program files/Diablo II) then run UdieMXL.exe


Known errors and bugs
the crafted and rare items can crash the editor.
the sets tab in the shop will crash the editor, do not use it.
the properties display on items is not perfect. (some may be wrong.)
the patch_XL.xxx must be in your Diablo II directory, but this is not really a bug.


About the Patch_XL.xxx
This patch is in fact a MPQ archive. You can rename it to patch_XL.mpq and open it with any MPQ editor. I recommend winMPQ. by this way, the editor can be converted to work with other mods, but you need the text files, since the editor is based on the mod text files.

Shadowdiablo.com

This editor has been downloaded on Shadowdiablo.com:

Shadowdiablo.com
forums.shadowdiablo.com

For more questions or support, go on shadowdiablo.com Please report any error(s) that you get and that is not listed on this "READ ME" file. When you report any error, please give details (what is the error, what were you doing when it happened, etc...)


Median XL only
This editor was created to work with the Median XL mod only. This editor will work better with Median XL version 1.F9b or higher.


Credits
whist
Whaag
SVR
The Median Gods clan
Shadowdiablo.com
CaptainCool