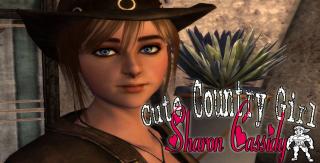 Views: 13,656
1.0
Rocket
Name: Cute Country Girl Cass and Presets
Version: Beta
Date: 2/18/2011
Category: Companions
Author(s): Rocket

I apologize for the inconvenient issues. Though I've been modding for a very long time now, sometimes things can go pretty badly. I made a mistake in file names and somehow deleted all sorts of scripts and NPCs as well. For some reason I never noticed the absurdly large .ESP file. I'm pretty sure I've cleaned up all the loose ends. If there's anything else I missed, let me know!

Also noted: Though Cass may have tattoos for the Type 3 body, NO SHARED BODY TEXTURES ARE REPLACED. Cass's body textures are linked to a separate folder than all the other races. Though I may have screwed up the original upload, I was still very careful to avoid replacing stock textures or meshes.

Description
===========
I decided to give Cass a fresh, cute, young face that still fits her spunky personality. Though there was nothing wrong with the original version of Cass, I wanted to change her look to suit me better. It may not be the most lore friendly version of cass out there, but I also made very sure it wasn't some sort of overly made up supermodel Cass either.

Details
=======
I've redone Cass's face based off of my player preset of my personal character "Cindi." I made some adjustments to her outfit that gives her a sexier side without making it too over the top. (does not replace any stock models or textures!) I also gave her a new custom hat and made her pendant a separate item since she's supposed to never take it off right? All items but the pendant are set to be playable so that you can undress and dress her however you want.

Also included is a playable race called the "Mojave Doll" that can allow you to use three presets that were used in the making of this version of Cass. Granted, the race may not be up to snuff with all of the Ling's or the Project Mikoto mods, but anybody who would like to make it so if they wish, so long as they give credit where credit is due. I would've done it myself if I knew how.

Install
=======
Before you start, It's incredibly imortant that you have done the following:

1. Install Archive Invalidated
http://www.newvegasnexus.com/downloads/file.php?id=35935

2. Go to your directory. On my computer it is:
My Documents/My Games/FalloutNV

3. Doubleclick Fallout.ini

4. Add the line "bLoadFaceGenHeadEGTFiles=1" right below the line "STestFile1=FalloutNV.esm"

5. Save and exit.

6. Open up your other directory. On my computer it is:

C:/Program Files/Steam/SteamApps/common/fallout new vegas

7. Doubleclick Fallout_default.ini
8. Add the line "bLoadFaceGenHeadEGTFiles=1" right below the line "STestFile1=FalloutNV.esm"

Now the mod can be successfully installed by dropping the "Meshes" and "Textures" folders
included with the mod into the Fallout New Vegas data folder. Do the same for the included
"NewCass.esp" file. Then enable the mod in either the default launcher or the New Vegas Mod
Manager.

You'll also need the "Eyelashes New Vegas" mod resources for her to show properly. It's pretty
important! You can find it here: http://www.newvegasnexus.com/downloads/file.php?id=34790

I've heard the Ling's Coiffure mod also adds the eyelashes, but I'm not too sure.


While Cass's clothing will appear normally on her, it's important to have the Type 3 armor models if
you want to change her clothing, or the textures will show up strangely.
Find it here: http://www.newvegasnexus.com/downloads/file.php?id=34825


Uninstall
=========
If you need to uninstall the mod, disable it in your mod manager of choice, then delete the related files.

Known Issues or Bugs
====================
- Any mod that changes Cass or her inventory will conflict with this. It may help to put this mod lower in the load order than another mod that changes her.

- I've noticed that if you load this mod after having met Cass or recruited her, her hat will appear wrong. This can be fixed easily by opening and closing her
inventory.

- While Cass's hair conforms to her head properly, it doesn't work right with most hats at this point. She'll usually appear bald. I'm currently working to fix this.

Credits
=======
R18PN for the corset top.
Bronson for the Amy armor Conversion.
Yoshikinaota for the eyes
Hair is from: http://kumakumakokuma.blog38.fc2.com/
Xcom and AlienSlof for the jeans

Tools Used
==========
Blender
NifSkope
Photoshop
Dajbot's ReadMe Generator


Licensing/Legal
===============
Feel free to reuse this if you'd like! Just be sure to give the proper credits.