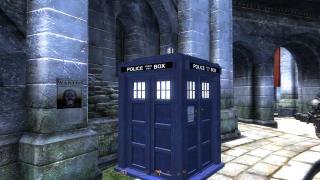 Views: 5,312
5.0
murfy27
A mobile home for Oblivion based on the TARDIS from Doctor Who.
Installation:
-------------
If you are using a previous version, delete any esm and esp files. then extract all files and folders to your Oblivion/Data folder and everything will go to the right place.
No changes are made to meshes, textures or sounds from the older releases, so you can overwrite these, or not, as you like.
Enable the correct files (see below under Version 3.0) in your preferred Oblivion Launcher and head for the relevant "initial location" where you'll find the TARDIS waiting for you.

Removal:
--------
Delete any files and folders which start "agc".

-----------------------------------------------
Version 3.0

This will probably be the final version I do for Oblivion.

Doors between the outside world and the control room have been overhauled. You can now enter and exit using the TARDIS front door as often as you like. To travel to another city, push the button on the console and you'll be "flown" to wherever you've chosen. Then simply use the door to come and go as you please. This is much more realistic and has the added benefit of not creating a permanent, fast route between cities - so no longer will you come back to where you left it to find some NPC has stolen it!
To Install:
-----------
Unzip all files and folders to your Oblivion/Data directory.

Enable "AGC-TARDISmstr.esm" and one (and ONLY one) of "AGC-TARDISoutside.esp" or "AGC-TARDISinside.esp"

agcTARDISoutside.esp
Use this if you're NOT running any mods which make changes to any cities (e.g "Open Cities" or anything similar). TARDIS will initially be found outside the Tiber Septim Hotel in the Imperial City.

agcTARDISindoor.esp
Use this if you use any "Open Cities" type mod or any mod which makes changes to a city within its outer walls. TARDIS will initially be found inside the Tiber Septim Hotel in the Imperial City.

Feel free to upload, download or share this mod and/or it's resources anywhere and in any way you wish, just be nice and give credit if you use the models :)

-----------------------------------------------
Version 2.1

Should now allow followers or companions to enter and exit the TARDIS with you.

-----------------------------------------------
Version 2.0

I've set up the interior and all exterior and door models as a master file to allow different .esp files to be created. Depending on other mods you have running, activate the one .esm and one of three .esps, whichever is most suitable:

Activate AGC-TARDISmaster.esm and ONE (and ONLY ONE) of

agcTARDISoutdoor.esp
TARDIS will "materialize" in these locations:
Anvil docks
Bravil next to "The Archer's Paradox"
Bruma outside the chapel
Cheydinhal next to "The March Rider"
Chorrol next to "The Oak and Crosier"
Imperial City, Talos Plaza outside "The Tiber Septim Hotel" (Initial location)
Kvatch encampment
Leyawin next to the Mages Guild
Skingrad at the North end of the bridge to the Chapel
Use this if you're NOT running any mods which make changes to any cities (e.g Open Cities" or anything similar).

agcTARDISindoor.esp
TARDIS will "materialize" in these locations (INSIDE these buildings):
Anvil - Anvil Castle
Bravil - Chapel
Bruma - Jerall View Inn
Cheydinhal - Castle Hall
Chorrol - The Oak And Crosier
Imperial City - The Tiber Septim Hotel (Initial Location)
Leyawin - Mages Guild
Skingrad - Mages Guild
Use this if you use any "Open Cities" type mod or any mod which makes changes to a city within its outer walls.

agcTARDISstatic.esp
TARDIS is in the Tiber Septim Hotel and cannot be used to travel around Cyrodiil. None of the "Preset Course" buttons work - just go out and in the front door.


If none of the above are compatible with your install, then you can use AGC-TARDISmaster.esm and create your own .esp placing a TARDIS anywhere you like in the game world.
Use agcTARDISexterior under STATIC and agcTARDISexteriorDoor (any one of them) under DOORS - set the x, y and z co-ordinates and Z rotation to the same values to get the correct alignment. Link your exterior door to "agcTARDISinteriorDoor" in "agcTARDIScontrolRoom" and you're ready to go.

-----------------------------------------------
Version 1.1

Fixed the problem with the console buttons rolling away if you get too close.

Version 1.1 esp NOT included in this download.

-----------------------------------------------
Version 1.0

TARDIS model built by me in Blender, interiors use existing Oblivion models. No Shivering Isles items are used, so Shivering Isles should not be required.
No extra files are required, only Oblivion with the latest patch.

Despite appearing small from the outside, inside you'll find a spacious home with all the facilities you could need. A private room, guest rooms, display hall, etc are all included.

There are eight or nine preset courses activated by buttons on the main "console" which will have the TARDIS take you instantly to any of the major cities in Cyrodiil (don't forget where you parked!).

All storage is safe and non-respawning.

TARDIS created by murfy27
-----------------------------------------------