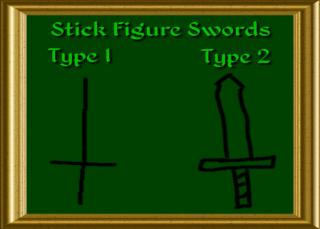 Views: 487
1.0
LHammonds
Name: Stick Figure Swords
Version: 1.0
Date: 08/08/2008
Category: Weapons and Armor (well, OK, it really should be comedy)
Requirements: 7-Zip
Recommended: Oblivion Mod Manager
Author: LHammonds
Source: TESNexus
RELz Thread: The Official Elder Scrolls Forum
Description
The infamous Naked Stick Figure Bandit gang has reached Tamriel and must be stopped.

Their weapons have the capability of rendering their foes dumbfounded.

These men are dangerous and skilled warriors. It is not recommended that just anyone try to stop their madness (Level 20+)
Location
Near the Bravil stables.
Install
Please see the readme file for details.
Incompatibility
None known.
Known Issues or Bugs
None known.
History
1.0, 2008/08/08 - Initial Release.
Future
Nothing planned. (No really, please do not ask)
Contact
You can find me on the official Elder Scrolls forums as 'Conan_Lon'
You can find me on TESNexus as 'LHammonds'
Credits
Thanks to Bethesda creating Oblivion.
Thanks to TESNexus for the a one-stop-shop resource for authors and players.
Thanks to God for making all of us.
Tools Used
a href="http://www.tesnexus.com/downloads/file.php?id=15579">7-Zip
Blender
DDS Converter
ESPluginCracker
NIFSkope
Oblivion Mod Manager
Paint Shop Pro
Readme Generator
TES Construction Set
TES4Files
Licensing/Legal
You can do whatever you want with this mod but all I ask in return is that you give credit where it is due. Wait a minute, who am I kidding? Nobody but "Heath" would be interested in this. LOL.