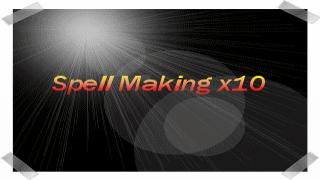 Views: 1,477
1.0
Kenshkrix
This makes the possible spellmaking and enchantment limits from 100/100/120 to 1000/1000/1200. There are many spells already in the game that have very high amounts of power, I think that this mod will allow more versatility in spell creation, if only slightly.
This also, of course, allows Doomsday spells of immense power, assuming you manage to find a large amount of fortify destruction or fortify magicka... And manage to afford the exorbitant fees that such a spell would cost.

When you unpack the .rar file, you will have a folder named 'Data', this indicates that you should place the files into the proper subfolders inside your existing 'Data' folder.

I got this idea from bloodbob 's Raised Spellmaking Enchancements Limits mod, but decided I prefer fewer limitations than his 300/300/360.