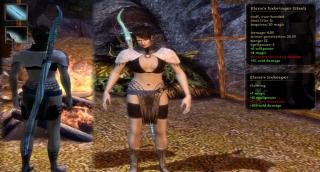 Views: 6,043
1.9
Rah2005
Description
Adds some new items to Bodahn`s store in camp.
Going to add more items in future releases.
Just give some suggestions...
---Update v1.9---

* Added Battleaxe: "Dimension Seven"
* Added Waraxe: "Zero"
* Added Longbow: "Symphony" (expensive cuz lil cheatitem)

---Update v1.8---

* Added a Longsword: "Spirit"
* Added a Shield: "Red Dragon"
* Added Tatoo on back to Icekeeper

---Update v1.7---

* Added 2 Staffs: "Elene's Icebringer" and "Sylvias Firestaff"

---Update v1.6---

* Added an Armorset: "Heavy Bastard"
* Fixed an visual bug(distance bug)

---Update v1.5---

* Added another Shortbow: "Black Widow"
* Added anoter Robe(ice): "Elene's Icekeeper"
* Removed Fire-effect: "Sylvias Firepower"

---Update v1.4---
Robe added: "Sylvias Firepower"
---Update v1.3---
X-mas special:D :

* Added an greatswod: "Bloodrose"
* Added an staff: "Black Energy"

---Update v1.2---
Added an Armor set:

* Added chest: "Orion's Armor"
* Added gloves: "Orion's Gloves"
* Added boots "Orions's Boots"

---Update v1.1---

* Added an Longsword: "Dragonkiller"
* Added a Greatsword: "Moonrise"
* Fire Arrows minimum stacksize is now 40.
* Changed Script(Spawn System).

---Release v1.0---
Added 5 new weapons:

* Fire Arrows(Random Stack).
* 2x Daggers: "Dark Knife" and "Blood Night".
* An Shortbow: "Ancient Strike".
* And a Shield: "Black Eagle" with austrian emblem on it. xD


Installation

1. Open up the /bin_ship/daupdater.exe
2. Drag the .dazip file into the updater window
3. Select it in the list and press install.
4. If the status says installed your done!


Uninstallation

Delete the "darkblades" folder in your Documents/BioWare/Dragon Age/AddIns folder.


Warning
Use at your own risk!
Im not taking responsibility for any data or hardware damage that may occur using this file!
If you use this file you automatically agree with that!

Feel free to post bugs or suggestions!