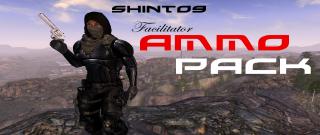 Views: 1,691
v1
Shinto9
Those geniuses at GunRunners have done it again. They have just finished a revolutionary design in ammunition technology. they call it the facilitator. the facilitator Round is a high velocity armor piercing round with a huge punch that can do damage as well as knock a small man off his feet. be prepared to dip into your savings though because such a powerful round definitely can not be cheap. the Facilitator Round is available only at GunRunners.

Available Calibers:
12 Gauge
.308
.357
.44
.45-70
.50BMG
5.56mm
5mm
9mm
10mm

10000 rounds of each available at gunrunners
Installation:
simply move the esp in to your Fallout:New Vegas Data folder.
Requirements:
Fallout:New Vegas
Conflicts/Bugs:
none currently known, if you happen to find one then please let me know.
Future Plans:
I plan to create Facilitator Rounds in different calibers as well as create new types of ammunition such as concussion rounds or incendiaries in many different calibers.
Permission:
I give permission for anybody to use this in there mods or modify it as they see fit, although I would appreciate if you would let me know that you will be doing so.