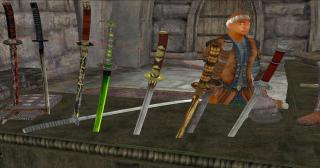 Views: 2,396
1.2
severian1981
IF you already have Version 1.2, RE-DOWNLOAD IT

I made a mistake in the initial V1.2 (released 19/04/06) which basically made the Steel Katana the most powerful weapon in the entire game...oops

The katana's can be purchased from A Fighting Chance in the Imperial City Market Place
________________________________________________
Well my favourite weapon whilst playing Morrowind was by far the Katana...and so I found the choice of katana to be sadly lacking (almost non-existent).

I made this mod for myself, however I've seen some people requesting this specifically so I thought I'd share.
Adds:
====Weapons====
Iron Katana
Steel Katana
Silver Katana
Dwarven Katana
Elven Katana
Glass Katana
Ebony Katana
Daedric Katana

===New to version 1.1===
Iron Dai-Katana
Steel Dai-Katana
Silver Dai-Katana
Dwarven Dai-Katana
Elven Dai-Katana
Glass Dai-Katana
Ebony Dai-Katana
Daedric Dai-Katana


All weapons have had values set to what I feel is appropriate, sticking to a similiar
formula as Bethesda.

(+2 damage, +50 health, + 4 weight)

However, I felt that a Katana should weight less than a longsword, and so set the starting weight at 17 (instead of 20, like the longsword). Given that the blade is lighter, I set the swing speed at 1.2 instead of 1.0 like the longsword.

The monetary value was simply made up by myself..I wanted to make the katana's more valuable than longswords but not overly so.