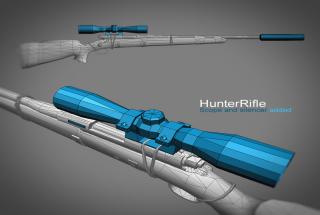 Views: 1,597
1.0
scumms
Its basically a hunter Rifle with custom parts, more specific a silencer + scope.
Hits a tad harder then vanilla rifle, but the main improvement is the crit multiplier.
Scoped, silenced, accurate while using .302 ammo... yas plz.
Install
=======
Like billions of other FO3 mods. Weapon location -> check images.
Note
=====
Sortof a test model. Once GECK and nifscope are under my Wip, ill try making one from scratch.
History
=======
31/3/2009 - Released.

http://www.scumworks.com