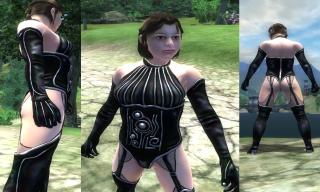 Views: 3,434
2
AlienSlof & Rebel O Conner
Name: Scholomance Armors
Version: 2
Date: 06/25/2010
Category: armors and clothes
Requirements:
Last Oblivion Patch
Robert male body V5( but may work on version 4)
Robert female body version 1.2 or Robert female body compendium
Authors: Alien slof and Rebel O'Conner

Description
===========
This mod add an armor, in 8 colors, for robert bodies male and female.
each color exist in light and heavy armor.

Location
========
You can find a chest in for virtue, west of imperial city, or buy them from the best defence( but at random).
You can also find them in the testenchanted.

Details
===========

this mod add scholomance armor in game.
it's a sexy armor for female and male.

Install
=======
1. Extract the files to a temporary location.
2. Examine the folder structure and make corrections where necessary.
3. Copy files to your OblivionData folder
4. Start Oblivion Launcher, click 'Data Files', place a checkmark beside the .esp file. you use. be careful, select only one

Uninstall
=========
1. Start Oblivion Launcher, click Data Files, uncheck the .esp files.
2. Delete the files/folders associated with the mod:
meshes/armor/rebel
textures/armor/rebel
Texture/menus/icons/armor/rebel
scholomance . esp

History
=======

1.0, 02/08/2010 - Initial release.
1.1, 02/10/2010 - AlienSlof's texture added
1.2, 05/08/2010 - icons changed and heavy armors added
2.0, 06/25/2010 - Version 2

Contact
=======

You can contact me at TES revolution mods, mods reloaded, Hall of torque, Gamevixen zone, and Tesnexus as Rebel O conner

Credits
=======

Great Thanks to AlienSlof for the texture.
Thanks to Azazel for the pic this mod is based on.
Thanks to LHammonds for the Readme Generator this file was based on.


Tools Used
==========
7-Zip - http://www.7-zip.org/download.html
Blender - http://www.blender.org/download/get-blender/
NIFSkope - http://sourceforge.net/projects/niftools/files/
Oblivion Script Extender (OBSE) - http://obse.silverlock.org/
Paint.NET - http://www.getpaint.net/index.html
Readme Generator - http://lhammonds.game-host.org/obmm/tools_readme_generator1.asp

Licensing/Legal
===============
You can modify the meshes for another Robert female or male body shape without permission, just credit me and give me the link.
You can't modify, change or upload AlienSlof textures without her explicite permission.
You can use the armor without change in any mods, just credit AlienSlof and me and give me the link.
Ask me first if you want to adapt the armor for another body model. anyway, i will refuse if you want to adapt to a mega breasted body.
Don't upload this mod on another site without my permission.