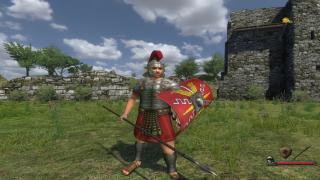 Views: 9,651
1.2
Llew2
For the Mount and Blade Warband Expansion version 1.1
I'm happy to announce - and release - the first Roman Multiplayer Mod!
(Actually, it started out as a small side project of roman equipment to be released for public use, but ended up as a full mulitplayer because I really wanted to kill people as a Roman Legionary.) :P



Features
-A fully functional Roman faction for Multiplayer, in addition to the Native factions
-9 Armors*
-6 Shields
-6 Swords
-4 Helmets
-4 Footwears
-3 Horses
-3 Spears
-4 Pilum
-The Module System is included



Everything was created by me. I used one or two Native models as a base for a couple armors and the horses, but everything else is pure me. :wink: Kudos to Narf for rigging the Segemtata model.

Anyway, without further ado, here be the pics so you can commence drooling (or flaming).


Legionary

Light horsemen. Notice the lack of a saddle; the three new Roman mounts in the mod are all

saddle-less.



Archer



The new equipment for the Legionary troop.



Centurion Hamata



Squamata



A light armor



And an updated Praetorian Guard armor texture



Basically, everything in this mod can be used and modified however you want, for whatever projects you want. Think of it as an advanced OSP pack with mulityplayer as a bonus. That said, there are a few nominal conditions of use.



Conditions of Use
-If anyone creates LODs for these models, you must send them to me to be included. I haven't made them, and I'm not going to, because creating lods is boring. :P
-Last and probably least, any servers that use this mod must allow me, the creator, access to play. :P