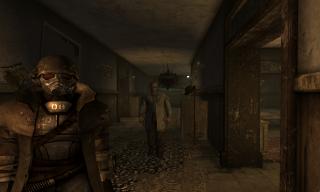 Views: 5,535
1.0
VT08
So you might be wondering why you should bother with downloading THIS file and not one of the other "Ranger Combat Armor added to gameworld for player's enjoyment" mods out there. Allow me to enlighten you!

1) You can easily acquire it at the beginning of the game. Some would call this cheating, but really, wasn't it we who were cheated when we discovered the lack of availability of this armor? I know plenty of people that wanted to start the game with this as soon as possible... me included. After many days of searching, I relented, discovering on the wiki that there was no way to actually get a suit without reverse-pickpocketing a Veteran Ranger (who only show up at the higher levels near 20, apparently)... or just murdelizing one.

2) If you ever wanted to pretend you were a desert ranger (albeit one unaffiliated with the NCR in an official sense) from the start of the game, this is the best way to do it.

3) Re-textured. Nope, nothing fancy... just removed the bear from the left shoulder. I found it a little strange that you would be able to wear armor clearly marked "property of NCR" without people associating you with the NCR on sight... so, I fixed that. If the bear ever bugged you, then you'll want this ranger armor!

Now! On to how to acquire it...

* * *

Finally you too can be the proud owner of a suit of (slightly beat up) Desert Ranger Combat Armor without having to resort to underhanded acts of skulduggery!

Wear it with pride (and without fear of becoming a target for any faction that really, really doesn't like the NCR)!

* * *

Location: Doc Mitchell's House in Goodsprings... hey, it's where you start the game. Should be easy enough, right?

Uh-oh... what's that? The chest is locked?! And there's no way for you to pick it without being a master locksmith?!?!?!

Have no fear! The key can be found easily in Doc Mitchell's bedroom, on top of the dresser, right behind the globe.



Story: Could this mean that sometime after leaving the Vault, Doc Mitchell served as an independent Nevada Desert Ranger? Or perhaps that one of his patients was a Desert Ranger? Did the patient live and pass on the armor to Doc Mitchell to tackle his second chance at life as a new man? Did he die, and did Mitchell regret the idea of burying such a fine suit of armor along with its owner?

Honestly, I have no idea -- I really didn't put that much thought into it. But there are a plethora of reasons why it would be there, I assure you!