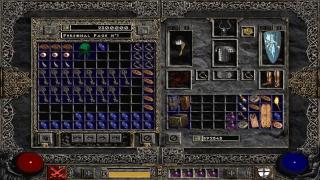 Views: 88,656
10.0
Yohann Nicolan
Please consider donating something to Yohann for his excellent work.
http://plugy.free.fr/en/index.html

- v10.00 changes :
- PlugY works for 1.13c version of LoD too.

Update of 08/14/2010
PlugY, The Survival Kit 1.10 with 1.13 compatibility is online !
Thanks to the donater. I hope some other will donate since it's released now.
PlugY.ini was missing in zip version, it's fixed at 08/15/2010 08:45 GMT

Update of 08/04/2010
The works for the 1.13 compatibility is done now but I will do some more test before release.
I think to do the release during next week.
There are 3 people who have donate, thank you to you and to prospective doner.
Don't forget to send me an email to plugy@free.fr in specifying what gift have you done, I will thank you ;)

Update of 07/25/2010
I'm currently working on compatibility with patch 1.13c.
My goal is to finish it before August 27, 2010, but as some know, I have much less free time than before.
My wife does not like to see me "wasting my time" to update PlugY.
I totally understand and to be forgiven, I thought to buy her a gift when finished.
But afterwards, I thought it would be nice if the Diablo and PlugY fans for whom I do that, also thanked her by participating to the gift. So she will see we have a great community around PlugY. ;)



Features
- Infinite storage space in the stash (up to 4,294,967,296 personal pages!)
- Shared storage space in the stash (up to 4,294,967,296 shared pages too!)
- Enabled the ladder only runewords out of realms.
- Local World Event and Uber Quest for singleplayer and multiplayer off-realm !
- Can open Cow Level Portal even when player have kill the Cow King in that difficulty.
- Unassign assigned skills and stats points.
- Change the selected language.
- Always regenerate maps in SinglePlayer like in MultiPlayer.
- Automatically execute /players X when you launch a new game.
- Added some pages for display more characters stats like %MF.
- Display item level in its popup.
- Launch any number of Diablo II games on the same computer.
- Increase the stash to 10x10 squares.
- Change the save path directory.
- Always display Mana and Life values above the globes.
- D2 can load all files, even those opened with Microsoft Excel (disabled by default).
- Display the stats current value (without magical bonus) like Magic/gold find or maximum resistances.
- PlugY is localized in English, French, German, Italian, Spanish, Polish.