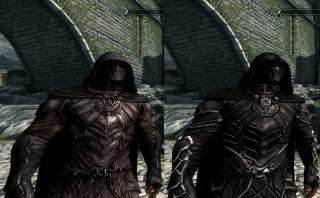 Views: 49,142
1.0
Satyr Zerofrost
UPDATE

Version 1.1 Released

I made few textures changes to the male version and made a Female version.I also fixed the folder issue from the first release.You don't need to download the first version.

l1nkown made a video featuring this mod,in case you want to see it used in game
http://www.youtube.com/watch?feature=player_embedded&v=N4kUoUtBdSU

-----------------------------------------------------------------------------------------------------------
Version 1
This mod is a High Resolution re-texture of the nightningale Armor.I wanted to make it look more reinforced.It's for Male only,i spend quite a time making this and i seriously don't picture myself doing the same with the female version lol.
To install Just extract the contents(including folders) of this zip file into your Skyrim game folder.


IMPORTANT FOLDER ISSUE FIX

I was being hasty and forgot to include the nightingale folder in the "armor" one.To fix this

1-Just extract the zip file as it is

2-Go to Datatextures/ directory and create a folder named "Armor" .There is the "nightingale" folder next to it ,pick it up and drop it inside the armor folder you just created.

3-Pick the whole data folder and paste it your Skyrim Game directory and DONE!