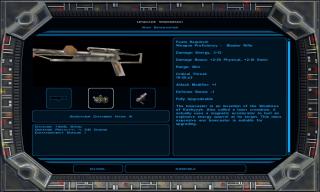 Views: 3,258
1.5
Eagleracer38x
======================================================
KNIGHTS OF THE OLD REPUBLIC II: THE SITH LORDS MODIFICATION
======================================================

NAME : New Work Bench Upgrades
Author : Eagleracer38x
email: eagleracer38x@hotmail.com
date: 09/13/07 V1.0, 9/24/07 V1.5
====================================================
This is a package of 114 "new" upgrades for weapons, 3 new underlays that can be used on robes or armors and 19 new variations of Jedi and Dark Jedi robes. They are all create able at the work bench, and right now the only other way to get them is to use KSE or 'giveitem' cheat. This mod started out with me always wanting a lightsaber that did most cold damage.

Personally I found lightsabers in game lacking in functional variety. Then there are things like Jedi and other force uses imbueing weapons with the force, but nothing in game to reflect that. Lightsabers are suppose to be as unique as the person who carries it. So this mod is an attempt to create more of that variety and uniqueness in game. The upgrades are altered versions of prexisting in game upgrades, primarily changing the damage type to other types of damage.

Everthing is based of the MKIII to MKIV or whatever the "top" lvl upgrade is called. I didn't do one for each of the weaker variations, beause that would make this mod substantially bigger, which would be a huge clutter in your 'override' folder and at your workbench in-game. Not to mention slow down the loadtime of your workbench.

And you do have the few original upgrades to last you till you can make the new ones. The required skill levels are the same as the original in game item it is based off of or something that requires a simliar # of componets to create. I also made new lenses out of all the original in game upgrade crystals, because... well a crystal is a crystal regarless of it's shape, size or how it's cut... The force cares nothing for size, right? And it adds a lot of new diversisty, which is after all the whole point of this mod after all. In comparison to other lenses, they are pretty equal in power.
New for version 1.5:
There are 19 new variations of jedi and dark jedi robes that can be created at the workbench. The defense bonus varies from 1 to 10, and the robes are more and more upgradeable with underlays and overlays the heavier they get. But these additional bonuses of defense and upgradeablilty come at a cost to dexterity starting at def bonus of 6 and eventually an attack penalty starting at a def bonus of 9.

There is a new "Verpine Robe" a spin off of the Norris Robe using the normal Jedi Robe apperenace just for fun. It protects against Ion damage. Also added vibroblades to the creation table, which I meant to do in version 1. Lightsabers where placed there as well in version 1, I just never mentioned it so it would be a surprise. :-P Also fixed the installer changes.ini file.

All the icons are pre-existing ingame icons, because it avoids either overwriting in-game icons or adding new lines to the baseitems.2da.

Note about damage types, 'Grey Side'damage is half dark side and half light side damage. Plasma should all be listed as Ion and Fire damage, which is primarily half and half as well.


Installation Instructions:
-----------------------------
First, if you have not already done so, create a folder called "Override", without the quotes, in your KOTOR2 directory.

Extract the contents of the zip to a temporary folder, run the Patcher EXE follow the instructions, and you should be good to go.

Using the TSL Patcher this mod now will modify upgrade.2da, itemcreate.2da and itemcreatemira.2da


Uninstallation Instructions:
-----------------------------
Simply delete these files from your override directory, and restore any necissary files from the backup directory the patcher makes in the temp folder you run the patcher from.

This Item Package Contains:
-----------------------------
Lightsaber Cells with Slashing, Cold, Light Side, Fire, Dark Side, Sonic, Ion, Plasma, Grey Side and Energy Damage
Lightsaber Emitters with Slashing, Cold, Light Side, Electrical Fire, Dark Side, Sonic, Plasma, Grey Side and Ion Damage
Lightsaber Lenses with Slashing, Cold, Light Side, Electrical Fire, Dark Side, Sonic, Plasma, Grey Side and Ion Damage
Lens versions of all in-game upgrades crystals
Melee cells and edges with Slashing, Light Side, Electrical Fire, Dark Side, Sonic, Ion, Plasma, Grey Side and Energy Damage
Blaster chambers and power cells with Slashing, Cold, Light Side, Electrical Fire, Dark Side, Sonic, Plasma, Grey Side and Ion Damage
Along with a few other parts that have other properties like stuns or defense bonuses and the like.

Again, Plasma = 1/2 Ion + 1/2 Fire
Grey Side = 1/2 Light Side + 1/2 Dark Side

New robes with varying def bonuses and upgradeablility.

Known Bugs and Issues:
-----------------------------
This should work with any other upgrade mods out there. No known in-game bugs either.

Giveitem Item Cheat Console Codes:
---------------------------------------------------
Underlays:
u_a_unde_301 -303

Lightsaber Power Cells:
u_l_cell_301 -310, 314-323

Lightsaber Emiiters:
u_l_emit_301 -310, 314-319

Lightsaber Lenses:
Crystal Lenses- u_l_clen_01 -28
New Lenses- u_l_lens_301 -310

Melee Power Cells:
u_m_cell_301 -310

Melee Blade Edges:
u_m_edge_301 -310

Blaster Power Cells:
u_r_powe_301 -310

Blaster Chambers:

u_r_firi_301 -310

Robes:

a_robe_300 -308, 329 -337, 358

If ya want to cheat, you get to count to find the one you want. ;-) The upgrade's # corisponds to the order they appear on the upgrades list in game. So lightsaber powercell 302 is the 2nd one on this list of new powercells, and #314 would be the 11th one on the list. And yes there are some numbers that are skipped, you can guess why....


Adknowledgements and CREDITS::
------------------------------------------------
Thanks to Fred Tetra for creating the awesome and simple to use kotor editing tool.

Redhawk for the text files I cut to make the read me and intro.rtf files for this mod. Very nicely format :-)

And stoffe for the lovely TSLpatcher


THIS MODIFICATION IS PROVIDED AS-IS AND IS NOT SUPPORTED BY BIOWARE/OBSIDIAN ENTERTAINMENT OR LUCASARTS OR ANY LICENSERS/SPONSORS OF THE MENTIONED COMPANIES. USE OF THIS FILE IS AT YOUR OWN RISK AND THE ABOVE MENTIONED COMPANIES OR THE AUTHOR IS NOT RESPONSIBLE FOR ANY DAMAGE CAUSED TO YOUR COMPUTER FOR THE USAGE OF THIS FILE.