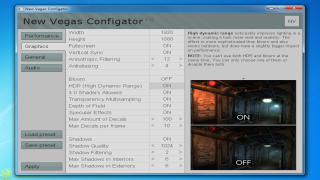 Views: 9,000
1.6
Rudolf Enberg
WHAT IS IT?

Fallout New Vegas has a huge amount of configuration variables you can change to customize and optimize your gaming experience. Most of these variables can't be accessed trough the game launcher so you have to use a text editor - or New Vegas Configator. This tool let's you tweak the game's configuration variables trough a simple user interface. Variables have helpful descriptions explaining what each variable is used for. You can also create several different configuration presets and switch between them in seconds. It couldn't be any easier!

This utility is compatible with Steam and any other mods you might have installed.

There's a version for Fallout 3 as well: Fallout 3 Configator


TROUBLESHOOTING

Note that New Vegas Configator will fail to start if Data Execution Prevention (DEP) is turned on for all programs by default. You must either limit DEP for essential Windows programs and services only or add New Vegas Configator to the exceptions list. More information available in the readme, or here.


CHANGELOG

Version 1.32
- Note: You need to uninstall the previous version before installing this update.
- The program automatically removes read-only status from configuration files.
- Changes are now properly applied to FalloutPrefs.ini

Version 1.30
- Initial release based on Fallout 3 Configator
- Added compatibility with New Vegas

- New enhanced and more stylished user interface.
- Revised description texts and pictures.
- Fixed a bug potentially creating performance issues on slower systems.
- Polished Load/Save preset interfaces. Presets also easier to remove.
- Improved feedback from apply, load and save functions.
- Program integrates with the installer to avoid problems when Fallout.ini would otherwise be hard to find.
- Preload Size Limit displayed in megabytes instead of raw bytes for easier tweaking.
- Note that Import, Export and Save have been renamed to Load preset, Save preset and Apply.
- This version should always be installed using the original installer for compatibility reasons.

DISCLAIMER
New Vegas Configator comes with no warranties. I don't take any responsibility for any damage(s) the use of this program may cause. Use at your own risk.