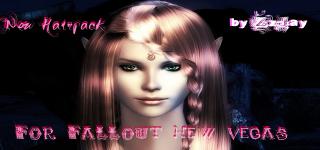 Views: 11,499
1.0
zzjay
IMPORTANT NOTE!!!! Textures won't work.You'll ave to fix in niskope the textures path I can't do it right now,so if you're not able to do it,do not use!


The esp test in the file won't work in fallout 3.
Meshes are the same,because fo3 and fnw use the same meshes (at least i have been told so)
So tell me if it doesn't work. (i don't have the geck in fo3,and i play only male char,so i'm not interested in testing these hairs)

VERY IMPORTANT!!!! To add to custom races READ THIS!!!! CORRISPONDENCE hair mesh and texture:
Hair.nif>>FH18.dds
Hair2.nif>>FH5.dds
Hair3.nif>>FH10.dds
Hair11.nif>>FH16.dds

This mods add 4 hairs from demoness mod to non custom-race female.But you can add them to custom races too.It's very simple.
How to add hairs to Custom races.You will need a beauty mod like ling's coiffeur(pm me for link),or other,and add to that(if the race is compatible with your beauty mod.In that case i opened the geck,loaded ONLY ling.esm,whitout active files,and changed the meshes/textures of certain female hairs i didn't like to mine)
You can also add the hair to custom races by using the geck,and add new hairs:character>hair>New...
here's demoness mod!http://tes.nexusmods.com/downloads/file.php?id=40386
Thee are other 3 hairstyles,that i may add later(next week,at least)
Other thing i'm going on a trip to German tomorrow,so I can't answer any question posted here,since Friday.
It's my first work with nifskope and meshes,so it's not perfect.I haven't reported any bug,but tell me if there's any,Still I don'know how these hairs works with Hats(i still don't have any :P)

Hope you will enjoy!