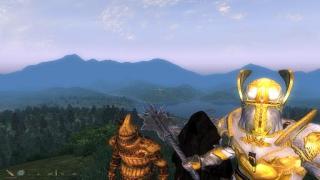 Views: 1,069
0.71
WebSlug
For anyone that hasn't played Elder Scrolls 3 - Morrowind, the Nerevarine title was given to the player upon uniting the broken tribes and completing the Main Quest.

The goal of the Mod is to introduce a lightly emulated form of PvP, it imports variations of my characters, the Nerevarine from Morrowind, my character Smoke from Baldurs Gate II and a Paladin, YoghurtPot from Diablo II.

There is an extreme amount of fighting in this mod and its retroactive play style means the three will hunt the player across the realms.

The Aim of the mod was to avoid any sense of regularity or letting the player form a mental pattern of the AI actions or movements. Unfortunately the mod was never completed due to the repetious nature of being killed.

The Three will hunt and harass the player where ever they go in Tamriel, all though they will never ambush the player in town or in dungeons, and should stop all activity if the player is in Oblivion.

The quest can only be started if the player is at least level 20. To begin simply sleep anywhere for at least an hour. The quest should display a message at the top of the screen if the mod is active and functional.

Sleeping for long periods is not recommended in this mod, the three will steal your spells, potions and damage your weapons/armor while you are asleep.


Requirements
* Oblivion Mod Manager (OBMM)
* Shivering Isles and the 1.2 patch
* OBSE v0015 or above - (Oblivion Script Extender) http://obse.silverlock.org/

Bugs
The mod was never fully play tested and I've attempted to fix all the bugs I've noticed.

Some of the rings and weapons are removed from the three after killing them. This is not a bug, it just prevents the player from becoming too over powered.

The three sometimes won't hunt the player if they transition through multiple doorways.

The GetCell command wrongly interprets the cell they are in and they will attack the player when resting inside of the entrance gateways near towns.

The three sometimes get beat up by monsters/guards and dont re-act. This is because their aggression is very low. They kept attacking each other in the past. Should be fixed soon.

May conflict with newer versions of Lost Paladins or Ring Wraith. To avoid any problems turn off these mods in the Oblivion Launcher.


Thanks to Lhammonds and the Bloke for giving permission to use their armor.

WebSlug / Slugworld