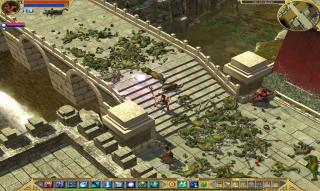 Views: 19,757
1.0
Orrus
The xMonsters mod is back!

This mod will increase the number of monsters in the main campaign by 2, 3, 4, or more. Fighting more monsters at once is really fun, and can be a lot more challenging. For me it brings back good memories of the Act II tombs in Diablo 2 that were packed to the brim with skeletons. Go raid the Egypt Sphinx, Giza Pyramids, or Valley of Kings Tombs with xMax mod and its the same experience!


Installation:

Simply extract the folder in the zip to your IT custom maps folder.
For example:
My Documents/My Games/Titan Quest - Immortal Throne/custommaps/monsters-x2

If you don't have "custommaps" folder, then create it yourself.


Running the Mod:

After you have extracted the files, run the game and select Play Custom Quest. Then select the mod and hit start. After a few seconds it should show the main campaign character select screen. Select your toon, and hit start again. Enjoy.


Known Issues:
Lag:
This mod causes some LAG! As the number of monsters increases the game requires more cpu and graphical processing power. You will end up with a huge pile of dead bodies and tons and tons of junk loot on the ground.
Spawn Positions:
Since there are so many monsters when using the x4 and xMax mods, sometimes the game cannot find a spot to put them. You may see monsters spawning in places you cannot reach with melee. If this happens, run away and they should "chase" you, and get unstuck. Otherwise, just kill them with ranged, or ignore them. The x2 and x3 mods seem to put all the mobs in valid locations.
Bosses:
osses are very very buggy with this mod. Some boss fights aren't even completable. I would suggest not running this mod when fighting bosses. However, some bosses actually work well with this mod. Last night for example, I fought 3 Egypt Telkines at once. It was really really hard (died once, and drank way too many pots), super fun, and each one dropped an orb once I beat em
Number of Mobs:
Even though the mod may say x2 or x3 etc, the number of mobs isn't guaranteed to be doubled or tripled. There seems to be hard limits on each spawn point, so some mobs just wont cooperate with this mod. **** turtles never seem to cooperate for me
Experience:
Since you are killing tons upon tons of mobs with this mod, you will quickly out level the stuff you are fighting. Don't be surprised if you reach a point where you are 10~ levels higher then the stuff your fighting, and they yield very little exp. You can level very quickly with this mod, but I do not consider it cheating since you have to actually withstand fighting so many mobs at once.
Difficulty:
I have only ever played these mods on normal difficulty, so I have no clue how insanely hard it might be on legendary. Be warned!

xMax:
The xMax mod is basically x10. Every monster type seems to have a different hard spawn limit, but it seems x10 makes them all hit the cap.


Credits:
This mod was originally created by MaDMaN and posted in this thread:
http://www.titanquest.net/forums/mod...-1-0-both.html
All I did was rebuild it to work with IT!

I tested each one briefly, but if anyone finds a bug please let me know.