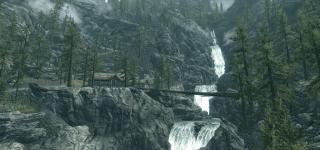 Views: 7,918
1.0
Trykz
Just extract the folder to your Skyrim directory, and accept the overwrite of the MjanasLabyrinth.esp. If you already have the Dark Lilith armor with custom/altered textures, extract the folder to another location, and just add the Labyrinth .esp and hair folder manually. If you have the armor as it was originally released, it will simply overwrite your existing files with no other changes.

To start things off, I'd like to introduce you to your hostess for this tremendous, adult oriented, work in progress dungeon mod, my very own little mage, Mjana:

Right about now you're probably thinking "hmm.... what could this sweet, innocent looking little mage possibly offer me?" So allow me to give you a little background:

For starters, she's quite the devious little mastermind, with more than just a few magic tricks up her sleeve. The door you see behind her, is actually in the basement of her home (and will be the ONLY entry point to the labyrinth). And right now, she's behind that door with her trusty pick-axe (and a few more than willing slaves), carving out her very own, fully functional (and fully equipped for the truly deviant among you) labyrinth of massive caverns, tunnels, and encounter areas. Complete with underground "mini-towns", with every amenity you could possibly need (food, rest, shops, taverns, etc.).

Consider yourself forewarned....

this labyrinth will be dark, VERY dangerous, and "HIGHLY" adult oriented. So prudes be warned, this will NOT be something the weak-hearted (or minded) will be interested in

She's based from the Dremora race, but the creation kit is very limiting in what you can and cannot use in tandem. Such as the custom hair not being usable with the dremora horns (for now). I want to add the horns to the hair nifs, so I'm playing around with nifscope. Once I get it sorted, I'll post the file as a simple replacer you can just drop in your data folder. I'm also considering importing the armor into the Labyrinth mod, so it can become a permanent part of her inventory, but I want to make sure it can be upgraded/enchanted. (does anyone know who I might need permissions from to include it, or if it's necessary?) For now, I've included the armor as a separate .esp, so you'll need to get the armor through the console and equip her manually. The hair will be an automatic addition (and should use whatever texture/color you currently have installed for vanilla dremora hair).

Being Dremora, she'll need to be picked up and returned to Fallsview manually. If you dismiss her in a town, be prepared to pay a ridiculous bounty, as she'll fight anything and everything in sight. She's an essential npc, so don't worry about getting her killed. She starts at level 10, with a full compliment of perks. And for now, just a couple of spells that I was sure she'd use without issue (she's a mage class, so no annoying bow and arrows to remove every time you change areas). I'll be adding many more advanced spells to her later.



Other changes/fixes/additions
1) The navmesh around Fallsview Lodge has been completely revamped to acommodate companion pathing (moving Jewel out of and back into Fallsview was quite frustrating without fixing this, and I didn't want any of you to go through the same thing, so I went ahead and got it out of the way ) I still need to make some minor adjustments to the navmesh in other areas of the mod, but it's nothing pressing that needs to be done right away, with only a couple of minor pathing issues between Fallsview and Redlight.

2) The guards around Fallsview have been removed for now, because they couldn't play nice with Jewel. They'll return when they can learn to behave

3) Replaced the workbench in the stable with one that actually works! (I also added a chest to store material in if you like, but be warned that they may be lost in a future update if you don't remove)

4) Added some "mood lighting" to Fallsview's lanterns

5) Placed working lampposts between the start of the path up from Fort Amol and the lodge to facilitate locating the path and finding the lodge easily (so no more "hints" )

6) For now, the mod will be packaged in a .rar file to facilitate new users who will need the armor and hair files for Jewel. Once/If I import the armor into the base mod, I may return to attaching just the base .esp file.