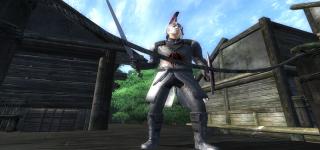 Views: 1,530
1.0
Phoenix316
Imperial Legion Scout Armour, version 1.0

Author: Phoenix316

Adds a new armour set, Imperial Legion Scout, which is light armour. It is partway between the Legion heavy armour and City Guard armour in terms of appearance, but quite dirty and dented. The cuirass and shield feature the diamond-dragon symbol of Akatosh and the rest of the nine, like on the Imperial City banners, the door of the Temple of the One and the Septim coins. It is slightly better than Mithril armour.
The armour is worn by the light foot patrols of the Imperial Legion, so replaces the strange mix of civilan clothing and heavy armour the Imperial Legion Foresters wear, as well as being worn by a quite low-level Imperial Legion Scout outside Vilverin who is prone to being killed by the bandits who live there. Or, if you fancy paying for some, the Archer's Paradox in Bravil has a few in stock.

Compatibility:
No known issues.

Installation:
> Copy the Meshes and Textures folders into your Oblivion/Data folder, keeping the folder system intact.
> Copy Imperial Legion Scout Armour.esp into your main Oblivion/Data folder, and activate in the usual way.

Uninstallation:
> Delete the Imperial Scout Armour folders from your Oblivion/Data/Meshes and Oblivion/Data/Textures.
> Delete Imperial Legion Scout Armour.esp from your main Oblivion/Data folder.