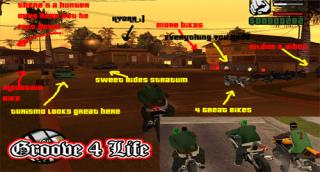 Views: 2,104
1.0
Madd Dogg
This awesome mod makes Grove Street a whole lot better. It adds a whole load of vehicles and other convenient items. Read the 'Readme' file for more info.

- 50 Oysters all in one place
- 50 Horseshoes all in one place
- 50 Snapshots all in one place
- Best bike's are waiting for you
- Nice Turismo car will make your ride perfect
- Hydra & Rhino from the game start make your Gameplay great
- Ballas now ride Majestic, Tahoma and Sanchez
- And much much more!