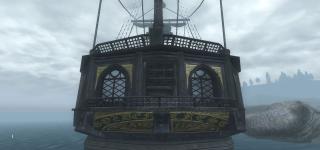 Views: 4,188
1.05a
Kafana - Nikola Luburic
To start this game simply load the esp and head towards Anvil. Once you enter the town of Anvil it will be a matter of seconds before you are introduced to the quest line.

Before the description I would recommend that when playing this mod you start on a clean save as to avoid any conflict this mod might have with other mods.

This mod is not compatible with DLCBattlehornCastle.

Description: The Golden Crest is a major quest mod that in it's current version has 25 quests(at least 10 more are to come) and currently offers at the very least 20+ hours of gameplay. Once you help a pirate in Anvil escape the clutches of the Imperial Guard you are on your way to becoming a pirate. At the start you serve on The Wailing Butcher, a strong and sturdy vessel. It isn't long before you go from the rank of Swabie to boatswain and start raiding ships, islands and castles with your crew mates. Eventually you acquire a ship of your own and become captain. With a home on the water and a crew under your command the plunderin' beings!
Features:
- A number of quests, most of which last longer than most vanilla quests.

- As you play you eventually acquire your own small quarters in the ship, but once you acquire a ship of your own you get a fully crewed ship equipped with your own smith, cook and doctor as well as half a dozen boatswains.

- A cozy acquirable house in the Nibenay Basin. A perfect location for any outlaws, vampires, thieves and, of course, pirates. Of course, what wilderness hideout would be complete without a secret?

- A tavern for pirates, thieves, treasure hunters and bounty hunters. What tavern would be complete without an underground ring? Features a dice game, a fight club and a long list of people with bounties on their heads for you to hunt.
Quests include so far:
- Raiding an enemy tobacco plateau and acquiring it for yourself.

- Boarding ships and plundering their storage.

- Recruiting new people for your crew.

- Establishing a constant income for your crew by helping your captain take control of a gold mine.

- Laying siege on the enemy's castle and taking it for yourself.

- Large scale battles, possibly bigger than that of the Battle for Bruma, where you don't question who you slash, you just slash.

- Challenging whoever you wish to a fist fight.

- Collecting ancient Ayleid gems used to open the ultimate treasure chest(part of the buried treasure which every pirate wants for himself).

- Taking part in a horse chase, a long and hard horse chase.
More to come:
- Raid a ghost ship.

- Acquire an island for yourself and your crew.

- Uncover the biggest treasure this side of the Abecean Sea.

- Become a pirate lord.

Installation:
Simply extract the .rar file to your OblivionData directory and open up the Oblivion Launcher where you will have to check the GoldenCrest.esp in the Data files menu.
Requirements:
- The latest Oblivion patch.
- OBSE -Elys- Universal Silent Voice which can be found here: http://www.tesnexus.com/downloads/file.php?id=16622
(Alternatively you can download the Golden Crest silent mp3 from this site, included in the file section of the mod and extract the files to your OblivionData directory)
Credits:
- pale_rider for the pirate coat and pants
- mirind09 for the black leather outfit
Disclaimer:
While the mod seems to work fine and doesn't cause any errors I would strongly recommend you back up all your saves. I am not responsible for any bugs that might occur.