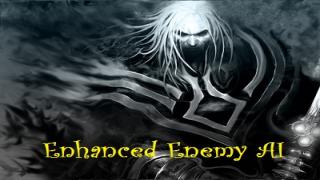 Views: 5,538
1.1
erkeil
Description
All enemies (humans, humanoids, animals, undeads and monsters - except for Dragons) have an enhanced AI. Now your enemies are smart and dangerous, for a more challenging and engaging game. Feel new game experiences and exciting duels and battles!

This mod doesn't use scripts, and may be installed/uninstalled easily and without dangers for your saves.

This mod is really light and non-intrusive, but his effects are visible and dangerous...



Combat Styles
I've only changed all the vanilla "combat styles", nothing more. But... You will experience new ways to fight and game feelings. ;)

Enemies will use more often and better spells, bashing, wards, strikes and so on...

Try it and have fun! And, sure!, give me your feedback!



Compatibility
This mod is compatible with most of other combat mods, as:

Ace - Combat Skills
Dragon Combat Overhaul
Dual Wield Parrying
Duel - Combat Realism
Deadly Combat
Skyrim Redone (SkyRe)
Tk Hitstop
Ultimate Combat
Locational Damage
and a lot of others...

if you load it after the other combat mod/s you are using

This mod is fully compatible with ENHANCED MIGHTY DRAGONS and ERSO - Erkeil Real Skyrim Overhaul.



Comments
Moro92, on 01 Jun 2013 - 8:33 PM, said:
This is what I've been waiting for! Thank you x1000!

luvboox, on 01 Jun 2013 - 8:28 PM, said:
Erkeil, this is fabulous. Your mods are too good. Have my babies.

nmlaski, on 01 Jun 2013 - 01:42 AM, said:
An awesome mod dude, endorsed! Currently playing combined with Ultimate Combat, works perfect.

ZeroKing, on 01 Jun 2013 - 8:49 PM, said:
"For those who basically do not have the time of looking into using TES5Edit or the CK (or are too lazy to do so) to see what this mod does, it's simple: it makes the base combat styles in-game more intensive and responsive. Rather than adding new, more intensive combat, it makes the base combat styles a bit more interesting and powerful. You don't need a video for that, it's quite light and yet more intuitive than the default styles. No scripts (I made sure of it myself) and the attacks are a bit more frequent. Best part is: no scripts and quite editable using the CK or TES5Edit, without being too drastic. Pardon my English here (non-native speaker), but it's quite simple to use TES5Edit to check differences that a mod introduces. The description itself is enough: 'I've only changed all the vanilla "combat styles", nothing more'."



Credits
Thunderzex for his EEAI logo
BRODUAL for his great video!