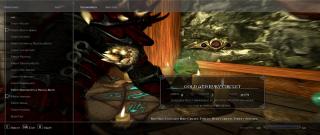 Views: 7,731
1.3
Progman
Enchanting Restrictions. I mean, really? Why? This has been bugging me since launch, and needed to be fixed. In what was I'm sure an effort to balance gameplay, Bethesda decided that different pieces of armor should only be allowed to use specific types of enchantments. But let's be honest, once you hit Lvl 50+ with maxed out Enchanting and Smithing on Master difficulty, you still end up overpowered and these restrictions just feel unnecessary and is just a pain to deal with. Well, not anymore! With this mod, you are now free to enchant your various pieces of Apparel using all of the "Armor" enchantment types. Want a shield that fortifies Sneak? Go ahead! How about a helmet that fortifies Block? Now you can! How about everything enchanted to make One-Handed damage increase? Sure! How about boots that make you constantly on fire, with none of the damage? With "Enchanting Freedom" the sky is the limit! And remember, the goal here is complete Enchanting Freedom!



What this mod does?
-Enables all base vanilla apparel enchanments for use on all armor/clothes/jewelry
-Enables disenchanting of Amulet of Talos and Cicero's Armor (For easy access to "Muffle" and "Backstab")
-Adds a number of unique armor enchantments for visual effects (they do not provide any actual gameplay benefit)
-Adds a number of "missing" weapon/armor enchantments (were in Oblivion, now they aren't)
-Adds a number of absurd new weapon enchantments that I thought were just plain silly(you'll know which ones)



What this mode DOES NOT do
-Enable enchantments for player use without having to disenchant them



New Armor Enchantments
-Restore Stamina
-Restore Magicka
-Restore Health
-Flame Cloak
-Frost Cloak
-Shock Cloak
-Frost Damage
-Fire Damage
-Shock Damage
-Ironflesh
-Detect Life(3rd Person Effect, only way I could get it to work...)
-Become Ethereal
-Ghostveil
-Night Eye (Functional)
-Candlelight(Functional)
-Spell Absorption(Functional)

Try combining a bunch of the elemental effects, it looks really cool!



New Weapon Enchantments
-Weakness to Fire
-Weakness to Frost
-Weakness to Shock
-Weakness to Magicka
-Reanimate (XD)
-Frenzy
-Calm
-Rally

To be able to use the above enchantments, you need to disenchant their aptly named counterparts, which can be bought at any of the Khajiit Caravans around Skyrim.



Future Plans
-Add functional seperate versions of the visual enchantments
-Add other enchantments (if I think of any)
-Make Detect Life functional
-Add these enchantments to weapons/armor in a more immersive way

Don't forget to rate if you like it! :D
Also available from the Steam Workshop