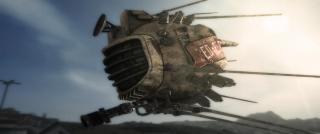 Views: 1,302
1.0
drakeelvin
Fallout: New Vegas
ED-E Fly Far, Fly Fast!
By drakeelvin [at] yahoo [dot] com
Version 1.0
07-Feb-2012


Fixes and accelerates the quest, "ED-E My Love," so that the 2nd recording WILL play 3 days after visiting Gibson, and Lorenzo's radio message triggers 1 day after the 2nd recording. The New Vegas defaults are 5 days and 2 days respectively, so this plugin reduces your total waiting time from 7 days to 4 days.

This also FIXES A GLITCH where sometimes the 2nd recording never triggers at all: it will trigger after 3 days.

Copy the ESP to your New Vegas data folder and enable the plugin.

Can be used with existing games at any stage, and will fix your game if your 2nd recording never played.

This fix/accelerator was part of a compilation mod that I abandoned and is no longer available, so I'm releasing just the fix.