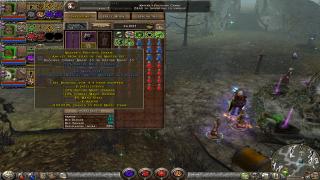 Views: 11,168

Team aSx
aSiaN SouND eXPReSS
Game..........: Dungeon Siege II
Type..........: Trainer
Cheat Info....: Mod
Release Size..: 13kb x 1
Target Rlz....: Dungeon.Siege.2
(any version and any language)
Date..........: August 22, 2005
Ripper........: Team aSx

RELEASE NOTES
1. release files with winrar 3.x.

2. Put "Magic_Item.ds2res" file to
folder. (no need to replace any file)
3. run game.

Note: in order to use this mod, u are REQUIRED to have at least 1 golden item (any part shall be fine) with you, and you have to wear that item. than, u will have 99.99% chance to find "rare","unique"or"golden" items in battle, no more crap gears!

Note: this mod can be use in ANY versions
ANY languages of DS2 ! enjoy !
allEnL@aSx

CONTACT iNFO // APPLiCATiON
if you found any mistake in our trainer, please
email us on: apply_asxdox@msn.com


news: we are currently looking for 100mbit
eu affil site(s). can you help?
GROUP GREETS
GANT MXiSO PiZZADOX and ALL THOSE WHO KEEPING
THE GAME SCENE ALIVE and ALL THOSE WHO IS
SUPPORTING TEAM aSx !!