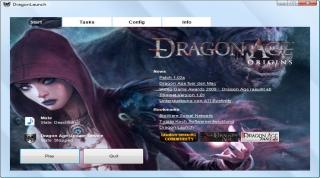 Views: 3,347
2.210.4
Tobias Koch
Dragon Age: Origins Launcher

http://DragonLaunch.TK-Software.de/

English description follows german text.


Beim Programm DragonLaunch handelt es sich um einen alternativen Starter für Dragon Age: Origins mit zusätzlichen Features:


* Performance verbessern: Dieses Tool beschleunigt die Ausführung des Spiels und versucht somit, die Performance zu verbessern. Zusätzlich wird ein vom Windows Media Player bekanntes System zur Beschleunigung von Multimediainhalten genutzt.
* Content Update Service prüfen: Oftmals wird der für Zusatzinhalte benötigte Dragon Age Content Update Service nicht korrekt gestartet. Dieses Programm zeigt dessen Status und ermöglicht einen Start des Dienstes.
* Alle Aufgaben auf einen Blick: Egal ob Sie die Einstellungen des Spiels ändern, Zusatzinhalte (DAZIP-Dateien) installieren oder das Dragon Age Toolset starten wollen, DragonLaunch ermöglicht dies mit wenigen Mausklicks.
* Neuigkeiten im Überblick: Die angezeigte Startseite zeigt Neuigkeiten und Hyperlinks rund um Dragon Age.




DragonLaunch is a replacement of the original Dragon Age Launcher with additional features:


* Improve performance: DragonLaunch tries to improve the performance by accelerating the game. Additionally, the Windows Media Player multimedia boost system is used.
* Check the Dragon Age Content Update Service: DragonLaunch allows you to start the Dragon Age Content Update Service manually to avoid problems with the downloadable content.
* Show tasks: DragonLaunch contains links to configure Dragon Age, install new modifications (DAZIP files), launch the toolset, ...
* Community News: DragonLaunch shows the latest community news and useful hyperlinks.


System requirements
* Dragon Age: Origins
* Windows XP / Vista / 7
* Microsoft .NET Framework 2.0

HowTo
Override Dragon Age Path:
If Dragon Age is not detected properly on your system you can use the following override:
Create the file "Path.txt" in your DragonLaunch directory and enter the path to Dragon Age, e.g. C:\Program Files\BioWare\DragonAge

Override Mod Manager:
If you don't want to use the DAContentUpdater, create the file "Mod.txt" in your DragonLaunch directory and enter the full name of the mod manager you want to use, e.g. C:\Program Files\DAO-ModManager\XYZ.exe
Steam Version:
If you are using the Steam version of Dragon Age: Origins, you should enable "Quit automatically" (tab: Config)
Version history
The german notes can be found on the DragonLaunch page

VERSION 2.210.2329.4 (2.210.4)


* Link to DragonAgeNexus added
* Option "Quit automatically" added (should be enabled if you are using the Steam version)



VERSION 2.110.2241.12 (2.110.12)


* Windows Media Player multimedia boost system implemented
* Mod manager override implemented



VERSION 2.912.1711.22 (2.912.22)


* SERVER UPDATE: English news feed on the start page. (no update of the client necessary)


VERSION 2.912.1711.22 (2.912.22)


* New option: Enable / disable command line parameters
* Changed behavior (multiple starts)
* Reduced "flickering" when switching tabs
* Removed dependancy (Windows Media Player)
* Reduced archive size


VERSION 2.912.1743.20 (2.912.20)


* First version published on Dragon Age Nexus