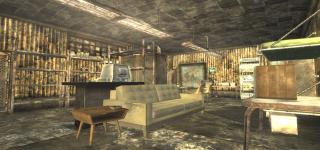 Views: 2,975
0.1
betajaen
Dimensional Storage for New Vegas
=================================

Written by Robin "betajaen" Southern
Beta tested and assisted by Reo.

What is it?
===========

Dimensional Storage is a believable and lore friendly player house, at a research facility hidden in the Spring Mountains in Nevada. It uses an experimental teleportation device to teleport the player and his/her companions to and from the facility.

Dimensional Storage is a reimagining of the mod for Fallout 3 of the same name.

It features
===========

- A light backstory which explains the history of the facility and the scientists involved.
- Plenty of storage lockers and containers for your prized possessions.
- Beds for you and your companions for a quick nap.
- Workbench to repair your weapons and armour.
- An experimental teleportation chamber.
- Completely compatible with vanilla companions and supports other companions through mods.

How to install
==============

Simple copy the DimensionalStorageNewVegas.esp file into your Fallout 3 New Vegas data
folder then enable it the configuration program.

To find the facility
====================

It is believed that after working on the project the chief scientist Dr. Keller moved
into Vault 21 before the great war, perhaps you should start your search there.

A more detailed walkthrough is supplied.

How to teleport
===============

Once you have found what you are looking for, simply equip it and activate it. You and
your companions following you will be automatically transported into the facility. When
you want to go back, just activate it again. It will remember exactly where you were before.


History
=======

0.1
- Initial Release

Future plans
============

- Improve the lighting in the facility.
- Allow your companions to use the sandbox package whilst in the facility.
- When teleporting back, teleport the companions to their previous position instead of yours.