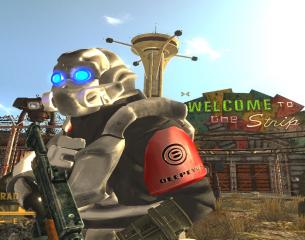 Views: 3,517
1.0
tyokio
Description
(update)

I've made some new normal maps and textures for the armor which I personally feel has improved the look of the armor. Edges are more defined and look less "plasticy" and the darker tone has helped reduce the shinyness.

Also by demand, I have included a separate file containing Red Glowing eyes.

Both of which have new images showing what they look like.


Its arrived in New Vegas : D

Adds a new set of armor to the game based on the armor worn in the film "final fantasy: Spirits within" comes with the helmet the uniform and the extra world mesh with a specially painted cover for that retro feel.

Hope you enjoy this! I've spent quite some time working on it : D.



Location
========
GoodSpring School house, I've provided some images that show the exact location. c:



Installation
============

1: Extract the files from the .RAR file

2: copy the contents of the Data folder from the extracted files to
your Fallout New Vegas data folder (located in Program Files/Bethesda/Fallout New Vegas or for steam Program Files/Steam/Steamapps/Common/Fallout New Vegas)

4: Activate the mod either using Fallouts Data File selection on the launcher or using the Fallout Mod Manager. (unless its not been made yet (written 31 oct 2010)

You should now be correctly installed c:



Uninstall
=========
1. Start Fallout New Vegas Launcher, click Data Files, uncheck the .esp file(s).
2. Delete the files associated with this mod.



Incompatibility
===============

If you have a mod that has an effect on Good Springs School House then there's a possibility it could have problems.



Known Issues or Bugs
====================

No dismemberment at current but if you wore the armor yourself then it doesn't matter too much.

Please contact me if you wish to modify or include my armor in your mod, I'll more the likely say yes.