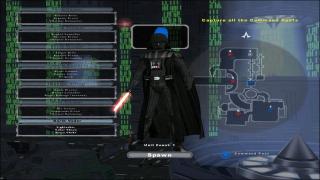 Views: 1,118
1.0
nmycon
nmycon's Movie Map Mods #1
--------------------------
Death Star: Episode IV
--------------------------
Hey everyone, this is my first mod I have made since hex editing! This is also my first "Movie Map" mod. What these mods will try to do is recreate famous battles from the movies using all the characters and soldiers that took part in the battle.
--Installation--
Place the DS4 folder in:
C:Program FilesLucasArtsStar Wars Battlefront IIGameDataAddon
(If you are smart enough to install it elsewhere, you are smart enough to install this)
--Description--
Death Star: Episode IV
This map recreates the battle on the Death Star from Star Wars Episode IV: A New Hope
--Mods--
Adds Han, Leia, Ben and Tatooine Luke (Hero) to Rebels. Also changes Rebel Smuggler model to "fleet" to fit in with the rest of the soldiers and renames him "Rebel Engineer"

Adds Vader and Emperor (Hero) to Empire. Also makes sure that there are more Imperial units that Rebel units on the battlefield.
--Bugs--
If you spawn as Ben right off the bat near the laser, you will see another Ben who will force jump into the lower area and it will take him a while to find his way up.

Occasionally, you will see another of your players units (if playing as a hero), but this does not happen that often.

If you kill a hero, the message will say [Your Name] killed [Default Rebel Name], I dont think this can be fixed.
--Permission--
I dont really see how you can use this in another mod... if you want assets, contact me at the email mentioned below, i might decide to release them later anyways.
--Disclaimer--
I am not affiliated with LucasArts... bla, bla, bla... you know the rest...
------------

Anyways, hope you like it and do not hesitate to contace me at:

nmycon@sympatico.ca
--Credits--
This mod would not have been possible without the support of my fellow
Gametoasters:
- Fingerfood (Helped me change the Rebel Smuggler (Engineer)'s Model, or
as he says "basically giving me the engineer model")
- Elfie (Helped me solve a problem that prevented Ben from loading)
- Caleb1117 (Helped me stop the Emperor from crashing the game)
- MandeRek (Helped me stop the Emperor from crashing the game)
- Teancum (Helped me stop the heroes from crashing the game, turned out Luke
was loading too many unused animations)

Until next mod (Utapau: Episode III):

"May the force be with you"

-nmycon