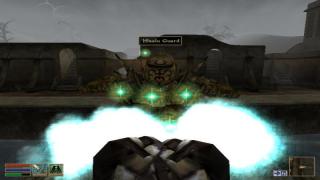 Views: 972
1.0
Exorince
Name: Exo's Deadly Magic
Version: 1.0
Date: 5/1/2009
Category: Gameplay Effects and Changes
Author(s): Exorince

Description
===========
Exo's Deadly Magic is a mod created to make magic combat in Morrowind more exciting.

EDM makes target spells move much faster, so when casting a fireball it really feels like a flaming ball of destruction and not like a flaming water balloon.

This of course affects enemies as well, so watch out!



Install
=======
1. Extract the files to a temporary location.
2. Examine the folder structure and make corrections where necessary.
3. Copy files to (install folder)MorrowindData
4. Start Morrowind Launcher, click 'Data Files', place a checkmark beside the .esp file(s).

Uninstall
=========
1. Start Morrowind Launcher, click Data Files, uncheck the .esp file(s).
2. Delete the Deadly Magic.esp file


Incompatibility
===============

Any mod that modifies the speed factor of spells.

Known Issues or Bugs
====================
None

History
=======

1.0, 2009/05/01 - Initial release.

Contact
=======

You can contact me on the Bethesda Softworks forums under the name Exorince.



Tools Used
==========
TES Construction Set - http://www.tesnexus.com/downloads/file.php?id=11367
Readme Generator - http://lhammonds.game-host.org/obmm/tools_readme_generator1.asp

Licensing/Legal
===============
You can do whatever you want with this mod but all I ask in return is that
you give me credit if you distribute any part of this mod. I would also like
to know what mods are including my work.